---
---
Special Edition Episode 2- The Immunity Syndrome (Sixteen 12)
Released December 2018 (US), January 2019 (UK). Limited edition of 1000. £124.99
This is the second in the Special Edition Episode Collection from Sixteen 12, first announced on 27 July 2017. The Eagle is an updated version of the 30cm long die-cast Product Enterprise Eagle, first released in 2004.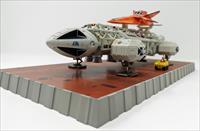 Packaging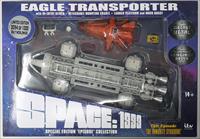 The card box is 48 x 28 x 10 cm, like the Breakaway set released in October 2018.
The box text:
Eagle Transporter
with Re-Entry Glider
Detachable mounting cradle
Launch platform and Moon Buggy
Diecast metal
Aluminium Engine Bells
14+
This Episode 'The Immunity Syndrome'
There is a silver sticker "Limited edition 0001 of 1000 only worldwide" (each number is unique).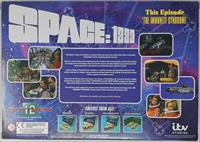 The back of the box contains 7 episode photos (only two of the Eagle and glider). The text is a short description of the episode. "This stunning model captures the essence and excitement of the very first story from the Classic British Television Show Space: 1999. Dedicated to the inspiration and memory of Gerry Anderson."
The background art is a plan of Moonbase Alpha over blue and pink "space" art. The same art is on a card insert (folds out to 58 x 48 cm).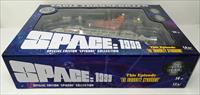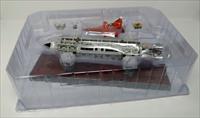 The model and base is encased in three layers of transparent plastic.
Model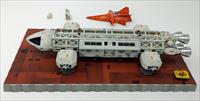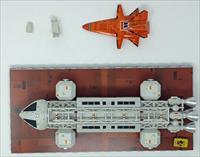 The set includes the Eagle with detachable transporter pod, the glider, two cradle pieces for the Eagle spine, a small moonbuggy, and a display base.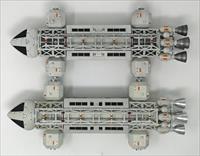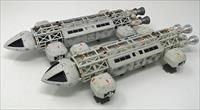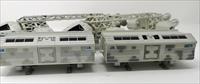 The Eagle itself is an updated version of the 2004 Product Enterprise release. The aluminium engines and lighter grey cage interiors are welcome improvements. The darker weathering panels on the transporter pod are a major regression, unnecessary and distractingly ugly.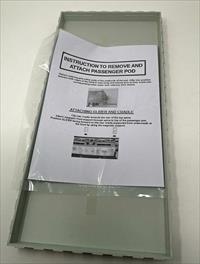 The launch platform, 34 x 16 x 1.7 cm, is the same as the Breakaway set, but with a red top, like the moonbase cross-shaped pads. It is not accurate to anything in the series, but it is a nice display stand in keeping with the subject. The instructions are taped underneath the platform.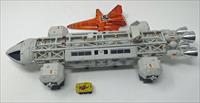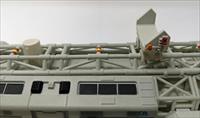 The cradle clips neatly onto the Eagle spine. A magnetic column attaches to the top of the transporter pod to support the front of the glider (the actual effects model used a third support under the nose).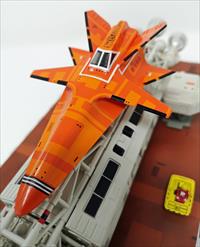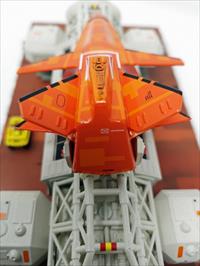 The glider is a fair representation of the effects model. The colour is glossy, rather than the matt original. There are small labels on the glider, like the original (but not matching in precise location or text). The cockpit windows are black; unlike the original, there is no astronaut inside.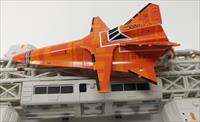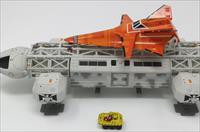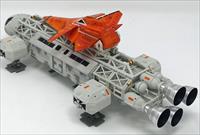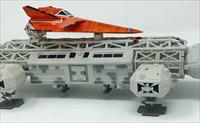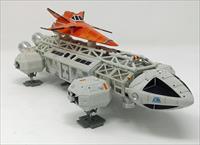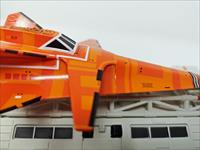 ---
Copyright Martin Willey