---
---
Special Edition Retro Eagle Transporter (Sixteen 12)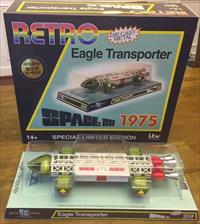 Released end May 2019. Limited edition of 500. £124.99
This is an un-numbered "special limited edition" in the Special Edition Episode Collection from Sixteen 12, first announced on 27 July 2017. The detailing is a good representation of the 44 inch studio model (identical to the 2004 regular Eagle Transporter), but painted in the colours of the first edition 1975 Dinky Eagle, with green command module and legs, and red and chrome engines. The 30cm long model is bigger than the 22cm long original Dinky.
Packaging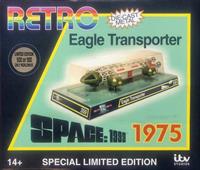 The outer box, with a 1980s Sinclair Spectrum "Retro" logo. The reproduction Dinky box is inside, alongside the Eagle (the Eagle itself is packed in clear plastic).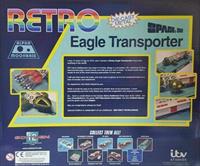 Back text is not signed, but presumably it is written by Steve Walker, director of Sixteen 12.
I was 12 years of age in 1975 and I wanted an Eagle Transporter more than anything in the world!

Off I set to Dellahunty's toy shop in Formby village in Lancashire, clutching £3.50 in hard-earned paper round money with just one aim in mind - to return home with a model of one of the most amazing spaceships I'd ever seen.

I still own that same toy today, and only have to glance at it to be transported back to a time of wonder and excitement.

An experience very likely shared by you.

While it would be very easy to be cynical of a more simple time of toy production, I never understate just how much these toys fired my imagination and inspired creativity.

So... here's a small tribute to the Classic Gerry Anderson Dinky toys of the 1970s - the blue Thunderbird 2, the green UFO Moonbase Interceptor, the blue SHADO Mobile, and the green and blue Eagles.

May our imaginations always be fired!

Special Edition in celebration of our childhood - 500 only worldwide
Model and reproduction box
The reproduction box has the original Dinky number on the side (359), with Dinky's logo swapped to that of Sixteen 12. The original Dinky box has yellow illustrations showing the functionality of the model (how to open the doors and remove the pod); the Sixteen 12 model does not have those features, and the illustrations are not present. Instead, we get a large Alpha Moonbase logo.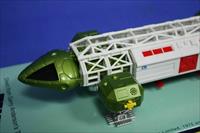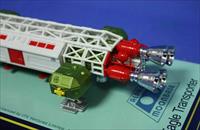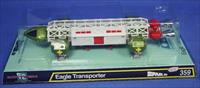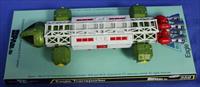 Comparison with original Dinky Eagle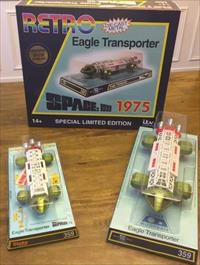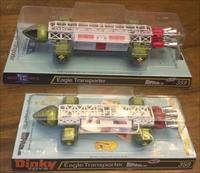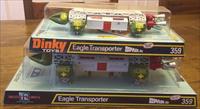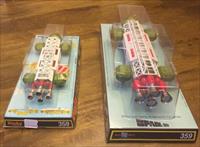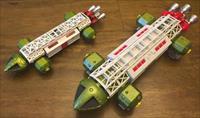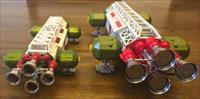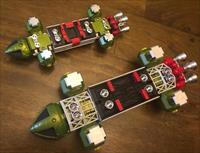 ---
Copyright Martin Willey. Pictures thanks to Gordon Moriguchi