---
Dinky Toys
Parent company Meccano had three hugely successful toy lines: the Meccano construction system (1901), Hornby Trains (1920), and Dinky Toys, which started in the 1930s making die-cast metal cars as accessories for Hornby Trains. Dinky was one of the pioneers of the die-cast process, in which a zinc-alloy is poured into a mould. The Dinky brand was known for quality and range. Competition was other manufacturers such as Corgi, Matchbox and Mattel forced increasing accuracy, including plastic windows, working suspension and opening doors. By the start of the 1960s, children were moving on to rival toys from Lego and, for older children, radios and pop records. In 1964, suffering heavy losses, the company was sold to Lines Brothers, which sold off the Hornby railway business.
In 1965, Dinky agreed a licensing deal with Gerry Anderson, producing Thunderbird 2 from Thunderbirds in 1967, and, even more popular, three vehicles from Captain Scarlet in 1968. The interceptor and Shado Mobile from UFO were the top selling Dinky toys in the early 1970s. While licensing had made the toys profitable again, the Lines Brothers parent company collapsed in 1971. Airfix acquired the Meccano and Dinky companies. Most of the British toys were made by the Meccano factory in Binns Road, Liverpool, built in 1914. It finally closed in November 1979.
The original Dinky Thunderbirds, Captain Scarlet and Joe 90 models were mostly correctly coloured, but the models from UFO released in 1971 onwards were inaccurate green. From 1975, a new blue version of Thunderbird 2 was released, along with the green Eagle. Gerry Anderson remembers visiting the Binns Road factory and being told that Dinky had market research showing children preferred the bright colours (Simon Archer/Marcus Hearn, 2002). Most televisions in the UK were black and white, so many children did not know the original models were white.
International competition, particularly from cheap countries such as Hong Kong, led to the closure of Dinky in 1979. The brand was sold to Matchbox, which itself was acquired by Mattel.
Links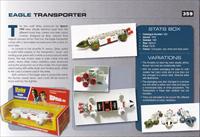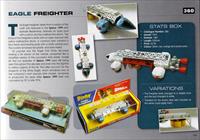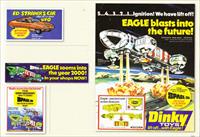 ---
UK 1975 (Never commercially released)
32 part die-cast metal model, to be sold unassembled and unpainted. A single Eagle, with both the Transporter "life support module" and the Freighter winch pods. The box was to be a rectangular carton, featuring artwork of the Eagle with both pods, and the text "Two Toys In One!". The serial number was to be 1035, although this was used later for another kit. The design of the box appears as an illustration (incorrectly identified) in "Dinky Toys and Modelled Miniatures" by Mike and Sue Richardson, in the Hornby Companion Series (1981), and is shown here (thanks to Gerry Forrester).