---
---
Special Edition Episode - The Infernal Machine (Sixteen 12)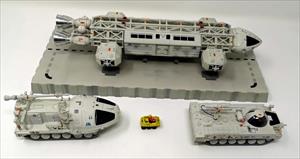 This set was first announced in February 2020. It includes a standard Eagle (with launch pad and moonbuggy), with two laser tanks. The other laser tank design was previously released in the Breakaway part 2 set (2019) and the Gift Set (2006).
Due for release in December 2020, the first boxes arrived in the US in January 2021, with the UK boxes held up by shipping problems.
Packaging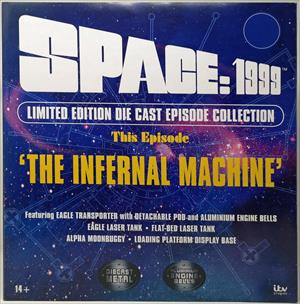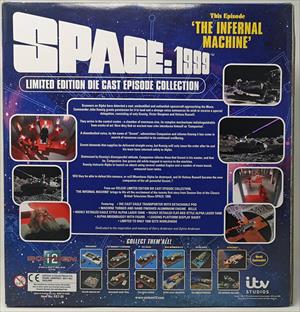 The card box is 38cm x 40cm x 13cm, the same size as the Deluxe Eagle Hangar and Earthbound boxes, and larger than the other boxes in the set. There is a front flap held with Velcro buttons. On the inside of the flap are more photos.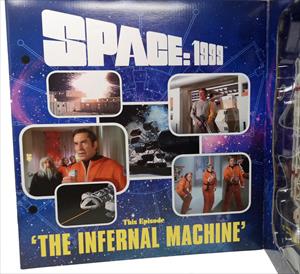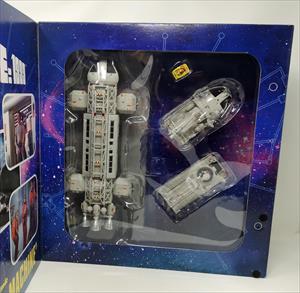 This Episode
The Infernal Machine

featuring Eagle Transporter with detachable pod and aluminium engine bells
Eagle laser tank
Flat-bed laser tank
Alpha Moonbuggy
Loading platform Display Base (on the back this is described as "Display

basey

")
Models
The obvious question is why this set only contains two of the three tanks from the episode. The third design has been issued in other sets, so adding it would have been easy and complete the set. It's not as if we need another tiny moonbuggy, or even the same Eagle Transporter again (or the "basey").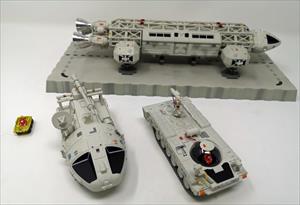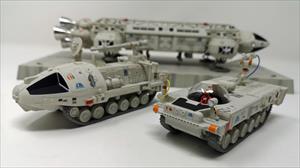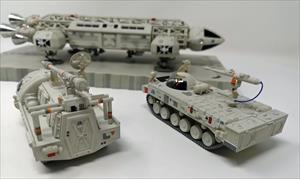 Eagle and display basey
The Eagle is the standard transporter version, as first seen in the 2018 The Immunity Syndrome set. The "basey" is the same platform as in the Breakaway set. The moonbuggy has been included in all the sets.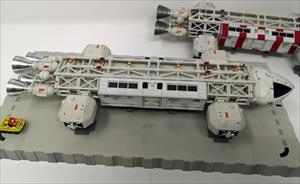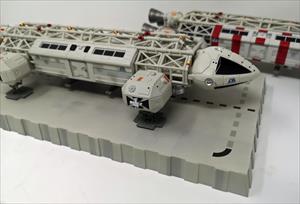 Tanks
The two designs in this set are the "Eagle-nosed" tank, and the flat top tank. Although the detailing is impressive, there is a noticeably crude piece of framework on the right side of the Eagle tank.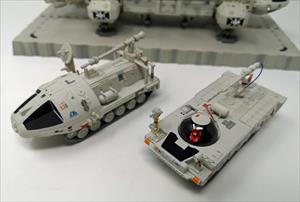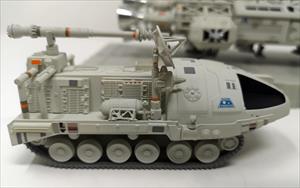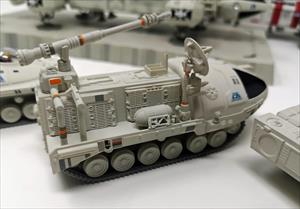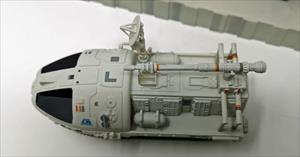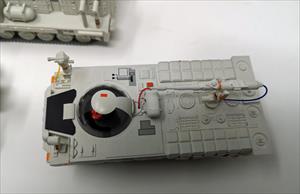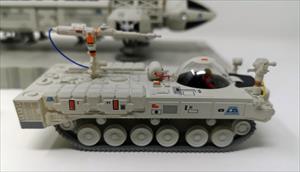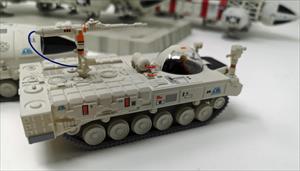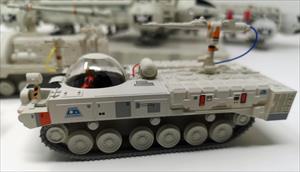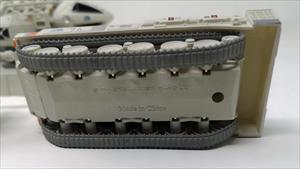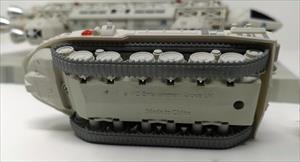 The three tanks
With the third tank design, from the Breakaway part 2 set (2019)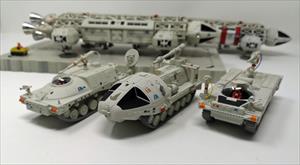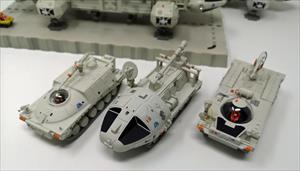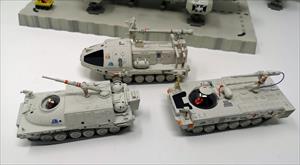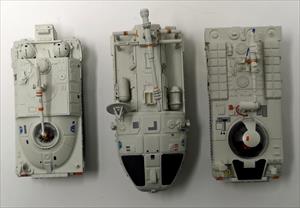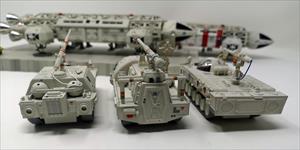 Original tank
Alongside the original flat-top tank studio model. Original model photos
The detailing is quite close to the originals. The fine line detailing is faithful but much heavier than the studio models. The wheels do not have the large hubs of the originals. The back of the flat top tank is much simpler, losing lots of details from the original.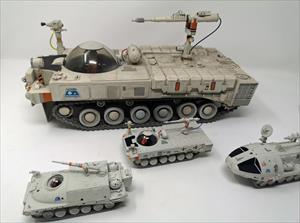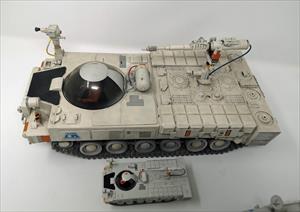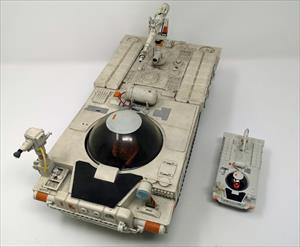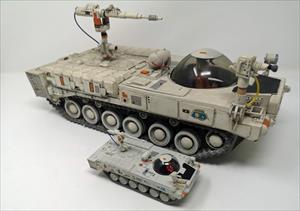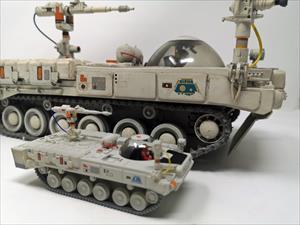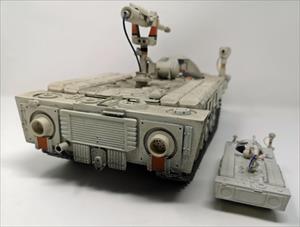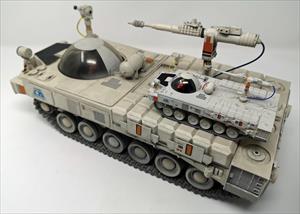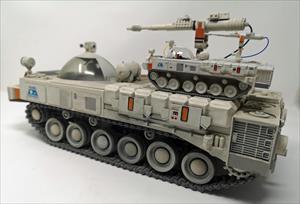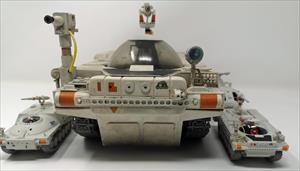 Studio scale replica
The three tanks alongside a studio scale replica (Small Arts) (thanks to Gordon Moriguchi).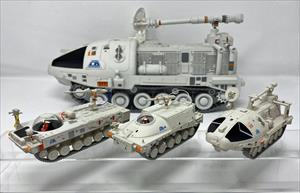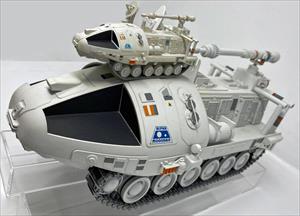 Prototype
The unpainted pre-production prototypes (thanks to Gordon Moriguchi). The injection mold test shot (black) next to the original 3D print test shot. The original proposed Eagle, the 3D printed test shot and the final release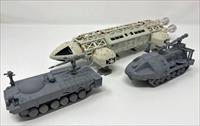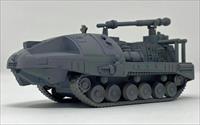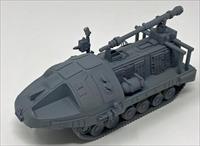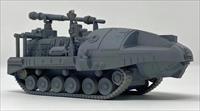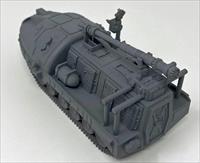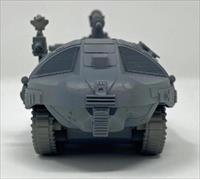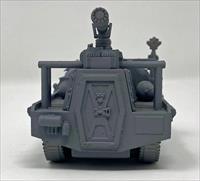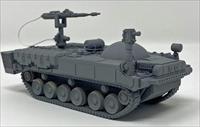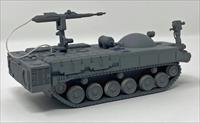 The original 3D printed test model, the injection mold test (in black) and the final released tank.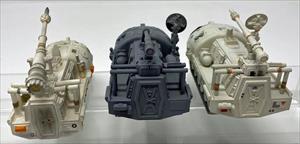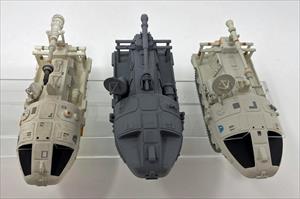 The flat top tank.




---
Copyright Martin Willey