---
In The Immunity Syndrome, Helena and Maya use a re-entry glider to enter the corrosive atmosphere of an alien planet. The design closely resembles a NASA design called the Hyper III, tested at the Dryden Flight Research Center in 1969.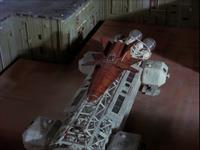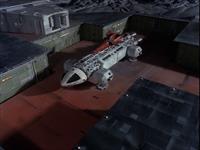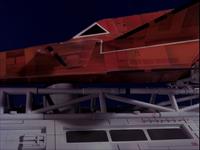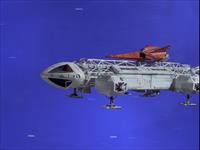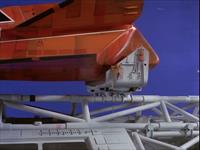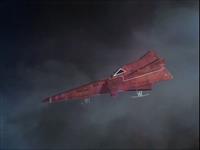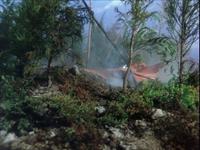 The Hyper III was built as a remotely piloted scale model (32 foot/ 9.7m long) which flew just once, in December 1969. It was a "stiletto-shaped lifting body" with flat bottom and sides, designed for high speed re-entry and manoeuvrability. The fixed wings simulated a "pop-out wing". It was one of a family of lifting body shapes that were studied by the Flight Research Center. NASA information and photos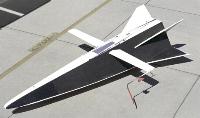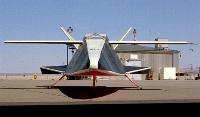 Below: the Hyper 3, restored by Ray Burgess, as seen at Castle AFB, California, 1993. Photographs thanks to Dana Lubich.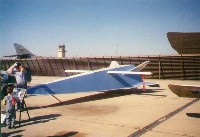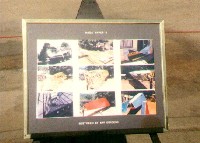 The model was built by Martin Bower in two scales. The smaller version is seen on top of the 44" Eagle. The larger version is seen in close-up on an enlarged section of the Eagle spine, and is crashed across sand dunes and into trees. It is 85cm long and made of 6mm thick perspex to withstand the crash sequence. There is a large hole in the lower part of the back, for a mounting rod.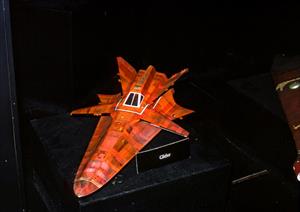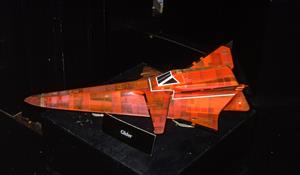 | | |
| --- | --- |
| | These pictures show the large glider. It is painted in five shades of red and dirtied with soot; the burnt red colour scheme was inspired by the lunar module from the series UFO. It is decorated with intricate panel lines and bits of text too small to read with the naked eye ("Danger, Explosive Bolts", "Nitrogen", "Warning: Asbestos", "Jet Vents"). There is only one astronaut inside the cockpit. |
| | The model shows signs of damage from the crash sequence (some damaged sections are covered with black masking tape). Note in particular the port wing has been broken, the front landing skid broke off with sections of perspex beneath, and one side of the cockpit window is broken. |
---
Space 1999 images copyright ITV Studios Global Entertainment
Page and model images copyright Martin Willey