Spain
Cosmos 1999- Latin America
There were several Spanish versions of Space: 1999. Latin America had a version in "neutral Spanish" (a formal non-regional version of Spanish distinct from the Castillian Spanish of Spain, or the various dialects of Latin American Spanish). It was probably authored in Mexico or elsewhere in Latin America. Mexico used the title "Odisea 1999", the rest of Latin America used the title "Cosmos 1999".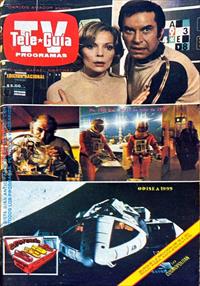 Tele-Guia, No 1300, 7-13 July 1977, featuring "Odisea 1999" on the cover
Espacio: 1999- Spain
Although many TV shows used the Latin American dubs, Spanish audiences preferred Castillian Spanish. Space: 1999 was dubbed in Madrid by the studio Sago-Exa by dubbing director Francisco Sánchez (who was also the voice of Bergman, Taybor and the Dorcon Archon).
Koenig - Joaquín Vidriales
Helena - Ana María Saizar
Bergman - Francisco Sánchez
Maya - Mari Ángeles Herranz
Paul Morrow - Diego Martín
Alan Carter - Javier Dotú
Sandra - Conchita Nunez
Tony Verdeschi - Josá Luis Gil
Fraser - Antonio Fernández Sínchez
Computer - Irene Guerrero De Luna
Other voices: Rafael De Penagos, Maráa Luisa Rubio, Javier Martín
The series was shown on Televisión Española (TVE) (Spanish Television) (until the 1980s the two TVE channels were the only channels in Spain). Initially it was shown in 1976 on Thursday afternoons (at 15:30, then moved slightly to 16:00, when children were in school). In 1977 it moved to 7pm. Year One episodes were followed directly by Year Two, finishing in May 1977. It then return in August with repeats of 7 Year One episodes followed by the remaining Year Two episodes.
The only merchandise known are VHS/Beta videotapes for Destino Base Lunar Alfa in 1986, individual episodes from Quartz video, and the DVDs, released in 2003 by Producciones JRB, with a new Castillian Spanish dub.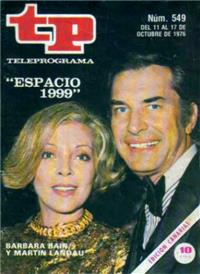 A Spanish TV Guide (for the Canary Islands) from 11-17 October 1976, featuring Landau and Bain on the cover. See also Catherine Schell article in Lecturas, December 1977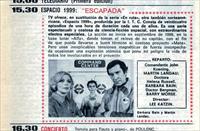 TV listing for Thursday 30th September 1976 at 3:30pm, episode Breakaway. This was a year after the US and UK, hence the Year 2 photo.
| Prod.Nbr. | Original Title | TVE (1976-7) Title | Translation | JRB (2003) Title | Date |
| --- | --- | --- | --- | --- | --- |
| 1 | | Escapada | Escape | Separación | Thursday, 30 September 1976 15:30 |
| 5 | | Rumbo a la Tierra | En route to Earth | Hacia La Tierra | 7 October 1976 |
| 18 | | El último enemigo | The last enemy | El ultimo enemigo | 21 October 1976 |
| 21 | | La máquina infernal | The Infernal Machine | La maquina infernal | 28 October 1976 |
| 22 | | Misión de los Darianos | Mission of the Darians | Misiòn de los Darianos | 4 November 1976 |
| 10 | | El niño de Alfa | The Alfa Child | El chico de Alfa | 11 November 1976 |
| 2 | | Cuestión de vida o muerte | Question of life and death | Materia de vida y muerte | 18 November 1976 |
| 8 | | Guardián de Piri | Guardian Of Piri | El guardián de Piri | 25 November 1976 |
| 23 | | El dominio del Dragón | The domain of the Dragon | El reino del Dragón | 2 December 1976 |
| 19 | | El espíritu conturbado | The troubled spirit | El espíritu contrariado | 9 December 1976 |
| 7 | | Eslabón perdido | Missing Link | El eslabón perdido | 16 December 1976 |
| 24 | | Testamento de Arcadia | Testament of Arcadia | El testamento de Arkadia | 23 December 1976 |
| 6 | | Otro tiempo, otro lugar | Another Time, Another Place | Otro tiempo, otro lugar | 30 December 1976 |
| 9 | | La fuerza de la vida | The force Of life | Fuerza Vital | 6 January 1977 |
| 15 | | El círculo completo | The full circle | El círculo completo | 13 January 1977 |
| 20 | | Cerebro del espacio | Space Brain | Cerebro espacial | 20 January 1977 |
| 14 | | El otro dominio de la muerte | The other domain of death | El otro dominio de la muerte | 27 January 1977 |
| 11 | | La última puesta de sol | The last sunset | El ultimo amanecer | 3 February 1977 |
| 4 | | Anillo alrededor de la luna | Ring Around The Moon | Prisioneros De Tritón | 10 February 1977 |
| 13 | | Ruta de colisión | Collision | Curso de colisiòn | 17 February 1977 |
| 12 | | Regreso de los viajeros | Return of the travellers | El retorno del viajero | 24 February 1977 |
| 16 | | Fin de la eternidad | The end of eternity | El fin de la eternidad | 3 March 1977 |
| 17 | | Juegos de guerra | War games | Juegos de guerra | 10 March 1977 |
| 3 | | Sol negro | Black Sun | El sol negro | 17 March 1977 |
| 25 | | Metamorfosis | Metamorphosis | Metamorfosis | 24 March 1977 |
| 31 | | Las normas de Luton | The rules of Luton | Las leyes de Luton | 31 March 1977 |
| 28 | | Todo lo que reluce | All that glitters | Todo lo que Brilla | 7 April 1977 |
| 27 | | Un momento de humanidad | A moment of humanity | Un momento de humanidad | 14 April 1977 |
| 30 | | El comerciante | The merchant | Taybor, El Viajero Misterioso | 21 April 1977 |
| 32 | | La marca de Arcano | The mark of Arcano | La Marca de Arkanon | 28 April 1977 |
| 33 | | Brian el cerebro | Brian the brain | El Cerebro electrónico | 5 May 1977 |
| 29 | | Viaje a donde | Journey to where | El viaje a donde | 12 May 1977 |
| 26 | | Los exiliados | The exiles | Los exiliados | 19 May 1977 |
| 36 | | Las crisálidas A y B | The chrysalis A and B | Las Crisálidas AB | 26 May 1977 |
| 1 | | Escapada | Escape | Separación | 20 July 1977 |
| 5 | | Rumbo a la Tierra | En route to Earth | Hacia La Tierra | 27 July 1977 |
| 18 | | El último enemigo | The last enemy | El ultimo enemigo | 3 August 1977 |
| 8 | | Guardián de Piri | Guardian Of Piri | El guardián de Piri | 10 August 1977 |
| 10 | | El niño de Alfa | The Alfa Child | El chico de Alfa | 17 August 1977 |
| 9 | | La fuerza de la vida | The force Of life | Fuerza Vital | 24 August 1977 |
| 23 | | El dominio del Dragón | The domain of the Dragon | El reino del Dragón | 31 August 1977 |
| 34 | | Nuevo Adán, nueva Eva | New Adam New Eve | Nuevo Adán, nueva Eva | 7 September 1977 |
| 38 | | La nube Beta | The Beta cloud | La Nube Beta | 14 September 1977 |
| 40 | | Una cuestión de equlibrio | A question of balance | Cuestión de Equilibrio | 21 September 1977 |
| 37 | | Semilla de destrucción | Seed of destruction | Semilla de Destrucción | 28 September 1977 |
| 46 | | El pianeta del diablo | A planet of the devil | El Planeta del Diablo | 5 October 1977 |
| 35 | | Las catacumbas de la Luna | The catacombs of the moon | Catacumbas de la Luna | 19 October 1977 |
| 41 | | Portadores de ilusiones 1 | Carriers of illusion 1 | Portadores de Misterio Parte 1 | 26 October 1977 |
| 42 | | Portadores de ilusiones 2 | Carriers of illusion 1 | Portadores de Misterio Parte 2 | 2 November 1977 |
| 45 | | Dorzak | Dorzak | Dorzak | 9 November 1977 |
| 44 | | La sesión fantasma | The ghost session | Sesión de Espiritismo | 16 November 1977 |
| 47 | | El sindrome de inmunidad | Symptoms of immunity | Síndrome de Inmunidad | 23 November 1977 |
| 43 | | El factor lambda | The lambda factor | El Factor Lambda | 30 November 1977 |
| 48 | | Los Dorkons | The Dorkons | El Poder de los Dorcons | 7 December 1977 |
| 39 | | Torbellino espacial | Space warp | Desviación Espacial | 14 December 1977 |