Spain April 1st, 2003; December 1st 2003
First three volumes, each containing three episodes, released April 2003. Second two volumes released December 2003. Price 17.95€ each. On 25th May 2006, two box-sets were released, each containing 24 episodes of each series (9 DVDs for Year 1, 8 DVDs for Year 2). Price 49.95€ each.
Strangely, volume 2 features a photo from Gerry Anderson's UFO series. Volume 3 features Maya from Year 2, although at least Catherine Schell appears in one of the episodes on the disc. Two of the three back covers feature Year 2 shots. The complete editions also randomly mix Year 1 and 2 photos (the first series cover shows the cast from Dorcons) but the UFO photo does not reappear.
The episodes (visual and English audio) are identical to Carlton. The Spanish (Castillian) soundtrack is rather muffled, with distinct Latin American accents. There is also an English soundtrack, and Castillian and English subtitles can be selected.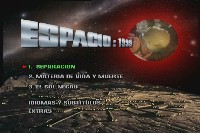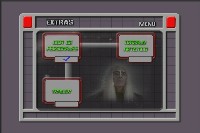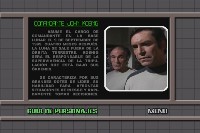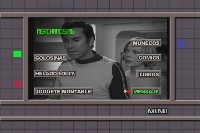 The main menu is animated: the background picture is a shot of Moonbase Alpha from Matter Of Life and Death, with clips from Breakaway superimposed over the planet, as Eagles fly over (from various library shots). Menu transitions use a clip of the Travel Tube zooming past. Interior screens use a stylised Big Screen. On selecting an episode, a vague approximation of a Moonbase door appears with the flashing text "Insert Your Pass!" (in English). This takes you to scene selection. All the extras are sourced from Carlton, although the text guides (characters and Moonbase) are enhanced by short clips of their subjects in place of static photos. In the character guide, the character names are stated by a female "computer" voice in Spanish.
Volume 1 1 April 2003

Extras:
Character Guide (text)
Keith Wilson Artwork
Trailers for Alien Attack, Destination Moonbase Alpha

Volume 2 1 April 2003

Extras:
Behind the scenes photos
Behind the scenes SFX with Brian Johnson commentary
Storyboards for Breakaway

Volume 3 1 April 2003

Extras:
Merchandising photo guide
Publicity (brochure photos, UK and US year 2 trailers)
Moonbase Alpha and the Eagle (text)

Volume 4 22 July 2004

Extras:


Volume 5 22 July 2004

Extras:


Pack 15 June 2005

Volumes 1-5 above (15 episodes on 5 discs)

1a Temporada Completa 25 May 2006

24 episodes, 9 discs
1. SEPARACIÓN
2. MATERIA DE VIDA Y MUERTE
3. EL SOL NEGRO
4. PRISIONEROS DE TRITÓN
5. HACIA LA TIERRA
6. OTRO TIEMPO, OTRO LUGAR.
7. EL ESLABÓN PERDIDO
8. EL GUARDIÁN DE PIRI
9. FUERZA VITAL
10. EL CHICO ALPHA
11. EL ÚLTIMO AMANECER
12. EL FIN DE LA ETERNIDAD
13. CURSO DE COLISIÓN
14. EL OTRO DOMINIO DE LA MUERTE
15. EL CÍRCULO COMPLETO
16. EL RETORNO DEL VIAJERO
17. JUEGOS DE GUERRA
18. EL ÚLTIMO ENEMIGO
19. EL ESPÍRITU CONTRARIADO
20. CEREBRO ESPACIAL
21. LA MÁQUINA INFERNAL
22. MISIÓN DE LOS DARIANS
23. EL REINO DEL DRAGÓN
24. EL TESTAMENTO DE ARKADIA

2a Temporada Completa 25 May 2006

24 episodes, 9 discs
1. Metamorfosis
2. Los Exiliados
3. Un Momento de Humanidad
4. Todo lo que Brilla
5. Viaje a lo Desconocido
6. Taybor, El Viajero Misterioso
7. Las leyes de Luton
8. La Marca de Arkanon
9. El Cerebro electrónico
10. Nuevo Adán, Nueva Eva
11. Catacumbas de la Luna
12. Las Crisálidas AB
13. Semilla de Destrucción
14. La Nube Beta
15. Desviación Espacial
16. Cuestión de Equilibrio
17. Portadores de Misterio Parte 1
18. Portadores de Misterio Parte 2
19. El Factor Lambda
20. Sesión de Espiritismo
21. Dorzak
22. El Planeta del Diablo
23. Síndrome de Inmunidad
24. El Poder de los Dorcons