Medical- Year 2
---
Just one principal design of Medical Centre (or rather "Center") appeared in Year 2. The computer panels at the head of beds are a new white design. The set may represent several medical wards which are variations of the same design.
Operations are performed on the red diagnostic chair in front of normal patient beds. The communications post is rarely seen (The Metamorph and The Beta Cloud) and shifts in position depending on camera angle. One wall, the normal camera position, is rarely seen (we have a glimpse of some panels in Mark of Archanon and The Beta Cloud). Dorzak shows a much longer version of the same room with a side observation room.
Beds
Medical Computers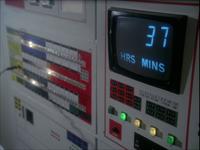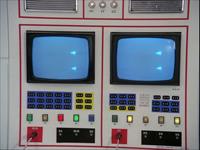 Details of the two screen design.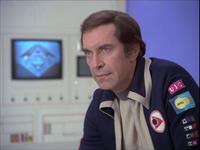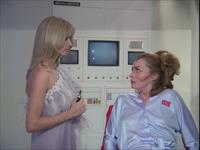 The three screen design appears again in The Lambda Factor, and in the Dorzak observation room.
Laser Control Unit X5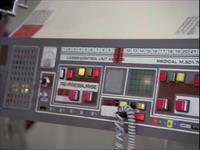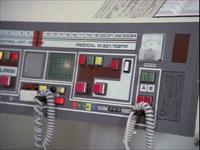 The curved computer unit hanging from the ceiling ("Laser Control Unit X5") was first seen in Space Brain and in three different sets in Dragon's Domain.
Furnishings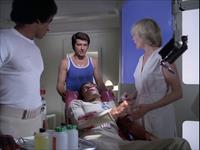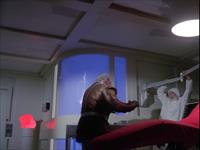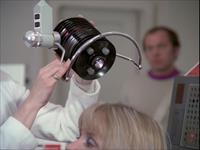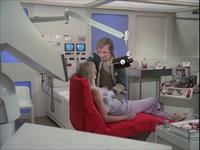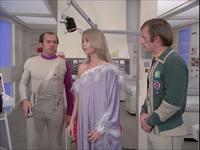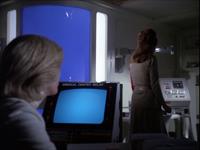 The scanning lamp on an articulated arm first appears in Catacombs Of The Moon, and remains fixed to the wall for most episodes. In Dorzak it moves to a column in the centre of the room. In The Immunity Syndrome it has moved back to its old position.
Observation Room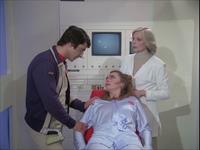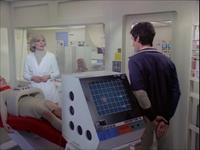 The Dorzak observation room.
Door area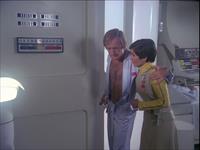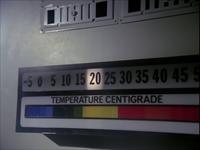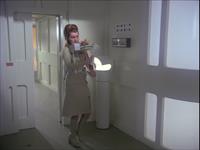 After The Beta Cloud there is also a ventilation grille and a temperature gauge (which first appeared in Catacombs of the Moon on the fourth wall, see below). It is captioned "Medical Temperature Control Unit", or in close-ups, "Temperature Centigrade".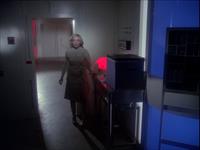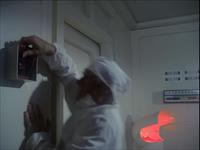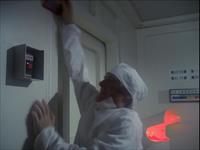 In Space Warp, an alarm button appears. It has a transparent cover which must be pulled out before the button can be pressed. Under the life support/temperature gauge is a Pileo floor lamp with a red bulb.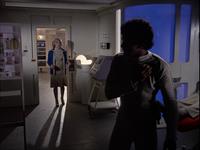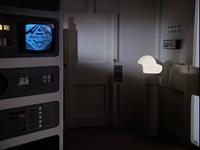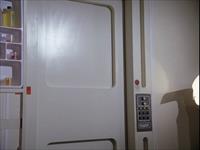 In The Bringers of Wonder, the alarm button is gone.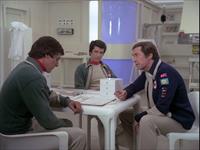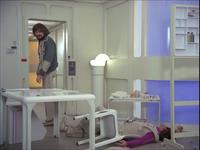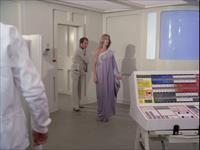 The grille and temperature gauge are still there in The Lambda Factor, but disappear in The Seance Spectre. They do not appear in Dorzak or The Immunity Syndrome
Exterior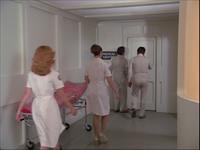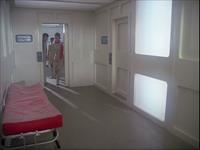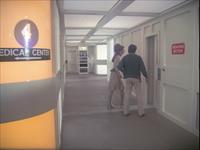 The Medical Center has a single door, off the main corridor. There is a "Computer Room" to the side, and across the corridor is the Weapons Section.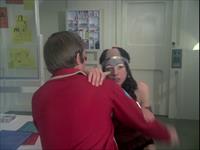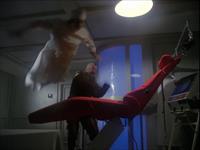 Some shots of the door show the corner to the far wall, as here in The Mark of Archanon and Space Warp.
We see more of the wall in Mark of Archanon, with the screen from the Command Office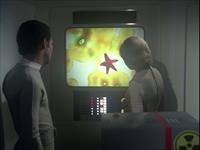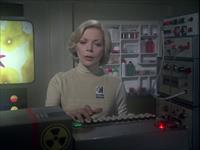 Plan