Weapons Section
This room only appeared in Year 2. It appeared in The Metamorph, The Taybor, The Beta Cloud and The Dorcons.
Brian The Brain & The A B Chrysalis feature one shot of a screen flashing "Evacuate").
It also appeared (with a slight revamp) as Life Support Centre in Seed Of Destruction.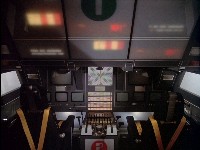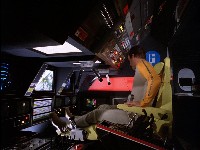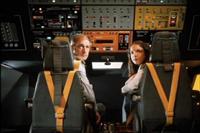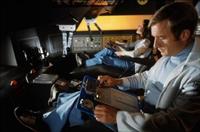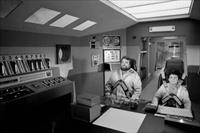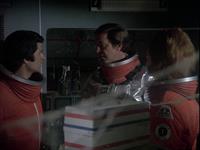 The main pattern of the Weapons Section console is based on the Voyager console from Voyager's Return. The two large central screens are backlit panels showing static patterns, not television screens. On either side is one large screen, with three smaller screens beneath. There are buttresses between each third of the width. The same console was used for the Ultra Probe in Dragon's Domain. The upper sloping section and side wall was used in the Altares command section for Into Infinity, while the numbered sign with cartridges was made for that 1975 special.
It also appears as the pilot section of the Mothership in Brian The Brain (but not the Swift).
The desk that the technicians use in front of the console is the filing desk, with 5 drawers in cabinets either side. Another version of this desk sits on the other side of the room (with drawers along the central span). These desks were first seen in the Eagle passenger module in The Last Sunset, and also appear in Dragon's Domain and All That Glisters, as well as the Year 2 life support/power room. They also appear in Into Infinity
To the side, against the red computer wall, is a white plastic Orix-type writing table. There are orange chairs at all the desks.
There is also a Boby cart.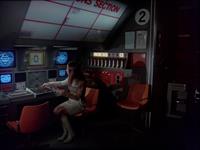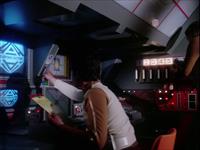 Signage includes "Laser cannon", "Radiation Sheild", "Meteorite Sheild". Both Shields are mis-spelt.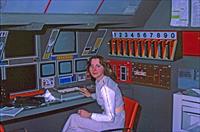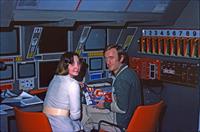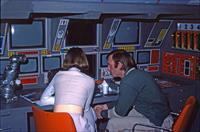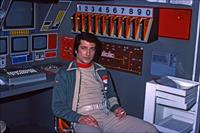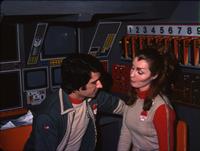 Behind the scenes shot from December 1976. In this episode, The Dorcons, the two computer panels on the side wall have swapped round (red "Internal Guidence" , and burgundy "A3"). Note the Space Warp detector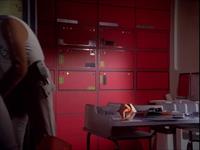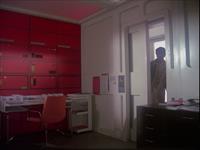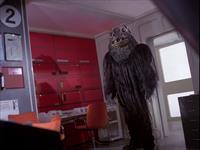 View of the red computer panels on one wall. The red panels reappear in only one set- the Eagle hangar Control Room seen in Space Warp.
The panel graphics here are by Craig Rohloff. The left-most column is mostly unseen.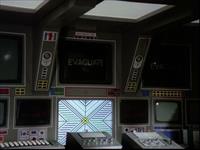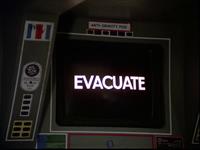 This zoom close up is the only appearance of the Weapons Room in The A B Chrysalis and Brian The Brain.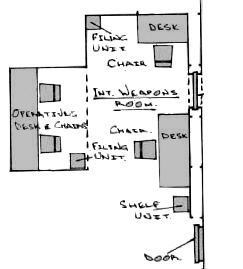 Keith Wilson's set design.