Boarding Tube
The boarding tube is a short corridor, either 4 foot or 8 foot long, which connects the travel tube to an Eagle or other spaceship. The interior panels are identical to the airlock interior. The interior set does not resemble the extending boarding tube seen on the Launch Pad exterior.
Plans by Craig Rohloff
The Breakaway boarding tube has white illuminated panels, but in most episodes the panels are illuminated red. The door frame is dark grey, rather than the light grey of the travel tube or Eagle doors. There is a white louvre panel (also seen in the travel tube, and one above the Main Mission Big Screen). The illuminated panels have white or metal frames with squared corners, not the curved borders used everywhere else.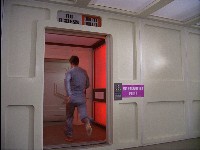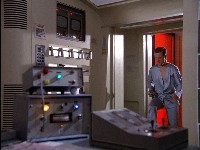 In Dragon's Domain, there is no travel tube- just a long Moonbase corridor (longer than the launch pad buildings on the exterior views). The "No Access" and "Count Down" signs are unique to this "Embarkation Point"
Unusually there is a standard moonbase double doors directly in front of the Eagle door.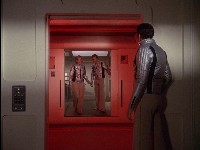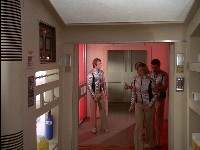 In Testament Of Arkadia, there's no door to the corridor behind.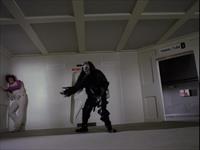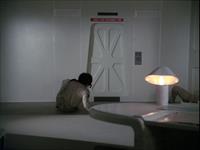 Space Warp: the angled door marked "Eagle Four Boarding Tube". It is the same design as the internal Eagle doors, and the exterior travel tube door.