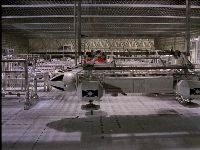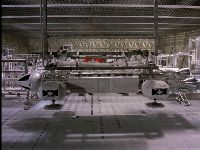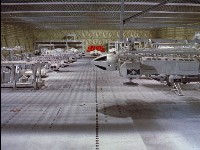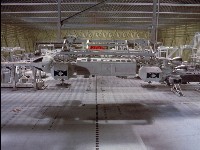 In this shot from Breakaway a small vehicle is just visible in the Eagle hangar in front of the Eagles on the right. This is a modified Matchbox "Stretcha Fetcha" ambulance (in their "Superfast" series, from 1973), with the greenhouse-like back cut off. It is also seen in The Last Sunset, as the gas fills the hangar, in front of the Eagle in the centre of the shot (thanks to Craig Rohloff). It can be seen in the black and white studio photograph, one of the series from which the photographic cut-outs were made. See more original photos from the hangar in the models section.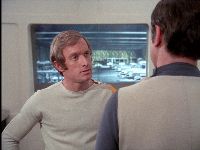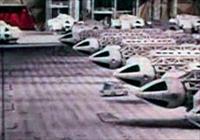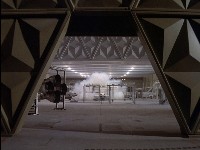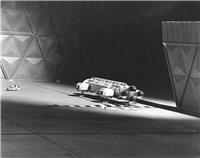 The Eagle is lowered on a platform. Note the platform is much smaller than the launch pad; at some intermediate point the ship has been transferred. This unseen stage involves an airlock as the hangar area is pressurised (we see technicians inside the observation windows and fires burn). Note that the design is identical to the alien elevator in A B Chrysalis. The cradle moves from the side and attaches to the Eagle.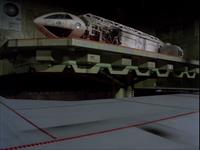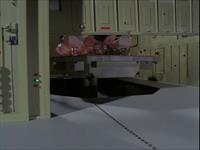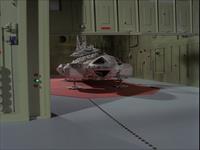 A hatch opens revealing on end of the main hangar area. These shots are interspersed with the ones above, showing the Eagle reaching the bottom of the lift shaft, and so presumably represent the point of view. The problem is how the cradle, which must run on an overhead rail, carries the Eagle through the hatch. In the last shot the door has moved (see the floor markings), as have several items in the hangar.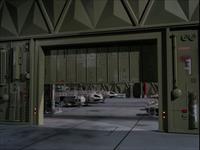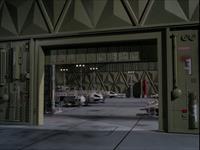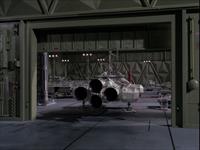 Earthbound: the Kaldorian ship in the Eagle hangar. In the first shot, the cradle is transporting an Eagle cargo pod; in the second, a podless Eagle. Several publicity photos showed a higher angle, revealing the background Eagles to be photo cut-outs, but this cannot be seen on screen. More details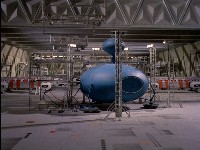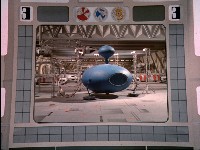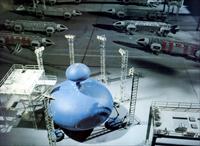 This hatch is seen rising in Earthbound shows the full Eagle hangar beyond. In The Last Sunset we see the same view through the open hatch into a hangar full of Eagles. In The Last Enemy and Space Brain we see the opposite view, to a smaller section of the hangar with a red floor. Note the light towers.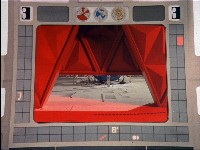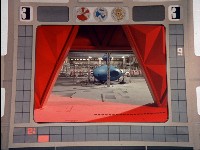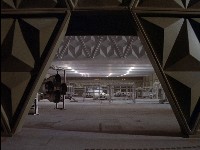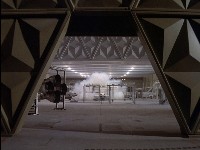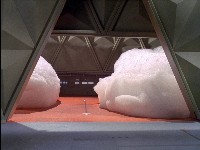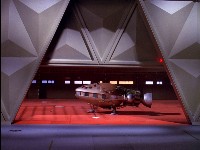 This is a section of the large hangar area (the Eagles are lined up against the sides much as shown in the full view). Again, there is the problem of the overhead cradle; one shot looking up shows roof baffles that block the path of the cradle rails. You can see the full sequence here.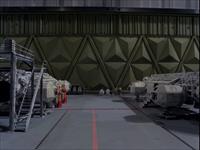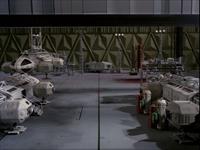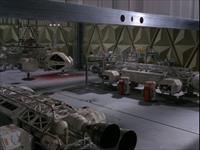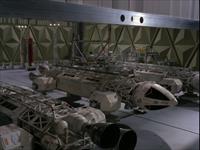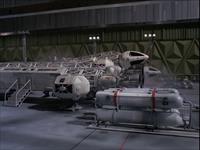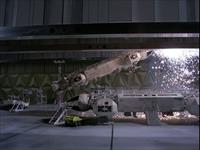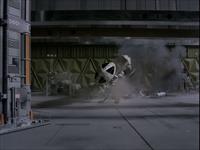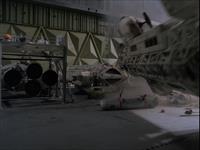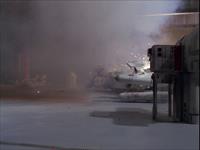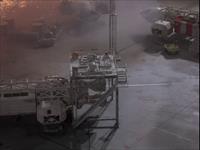 One corner of the hangar area (from The Metamorph and The Exiles). Again, a view of the roof with an overhead cradle in the foreground, but no system of rails to move it about. If the nose cone seen on the right looks lower than a normal Eagle, it is because it is actually the Ultra Probe command module.