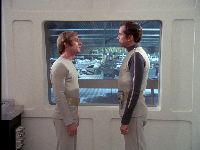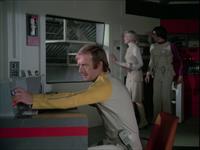 The Observation room is a different room to the one we saw in Breakaway. Note the Main Mission stairs visible through the window in the Space Warp scene. Evidently the Eagle hangars are pressurised, as crew do not need spacesuits (and fires burn fiercely!).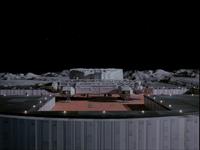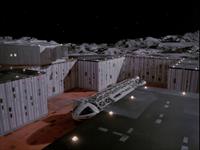 Two more library shots, this time of the first 44 inch Eagle (now facing the opposite direction- the boarding tube was on the port-side, now it is starboard). The first shot was first seen in Voyager's Return, and the second shot is seen in The Last Enemy. Both were filmed early in the first series, probably for Ring Around The Moon and Black Sun respectively.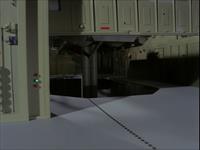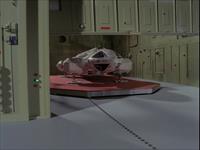 The Eagle reaches the bottom of the lift shaft. This is now the third 44 inch Eagle (and will remain so for the rest of the sequence). The platform is much smaller than the large cross-shaped surface. The platform was first seen as an alien structure in The AB Chrysalis, but has been repainted. Note on the left wall are 2 small Apollo lunar landers, from the Airfix Saturn V model.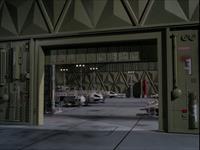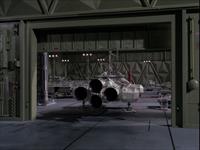 Between the first POV shot, and when the Eagle has entered the hangar, there have been some changes.
Firstly, the entire door has moved several metres to the left (as shown by the floor markings).
The moonbuggy has moved slightly closer to the Eagle stairs.
Against the far wall, a light tower has swapped places with vertical red and brown cylinders, and an Eagle pallet pod has appeared with an Eagle nose cone on it.
The different angle shows us a second laser tank beyond the first. The tanks have moved forward since the previous shot, crossing the floor line.
At the far wall is a booster pod.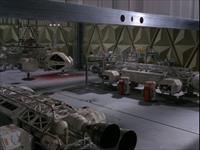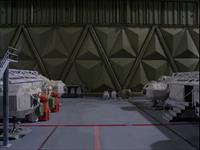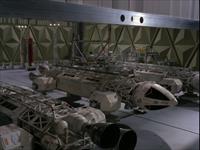 The third 44 inch Eagle moves into a bay between the first and second 44 inch models. There are two side boosters from New Adam New Eve besides the first 44 inch Eagle, without their nozzles. The Eagle's torque links show the feet are facing the wrong way.
Against the far wall, we can see the brown and red cylinders we saw in the shot through the hangar doors. There are two engine bells, and a moonbuggy.
There are some differences between the POV shot and the wide shot.
The floor markings are completely different.
The scaffolding structure over the Eagle 1 engines has steps in the POV shot, but the steps are on the opposite side in the wide shot.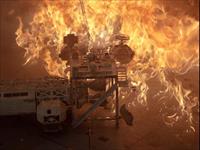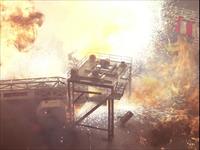 ---
Contents copyright Martin Willey