Flight Control
This room, overlooking the Eagle hangar, is used to plan and control space missions. The designation on the communications post is T. It is seen in Breakaway. Footage from the first episode is also seen in Force Of Life (one previously unused shot of Young (Milos Kirek) falling over; one reused shot of the technician diving through the observation window).
Opposite the window to the Eagle hangar is an exterior wall with a view of the lunar surface. This would imply that the Eagle hangar is a large above ground structure. or excavated out of lunar hills or crater walls (and thus separate from the main Moonbase structure).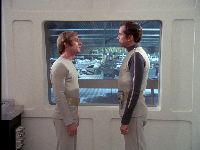 The Eagle hangar is a back-projection (a large screen with a projector behind it). The hangar SFX scenes were the first special effects shots completed, as they had to be ready for shooting this live action scene (originally scheduled for Friday 14th December 1973, these shots were eventually filmed on Tuesday 8th January 1974). The smaller screen showing the Meta Probe, and later the Space Dock with probe, is also back projection, but only a still photograph. The 22 inch Eagle in this shot (and the photo cut-outs in the background) do not yet have the Alpha insignia attached.
Among the decorations are Bergman's perspex sphere, a Gustavsberg Salad Bowl (on the desk under the Meta Probe screen), a Tizio lamp, a Boby cart, a Euroway perpetual calendar (marking Sunday AND Friday 2nd) and the green pipe that later appears in Command Center.
There is a large drawing table which will later appear in Queller's Experimental Lab in Voyager's Return. There are two Main Mission desks.
The window overlooking the hangar is rarely used in other sets (a wider window is normally used), but it can be seen in two Medical sets, in The Troubled Spirit and Space Brain, and again looking into the Eagle hangar in the Control Room in Space Warp.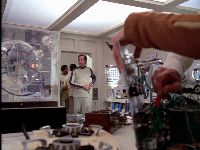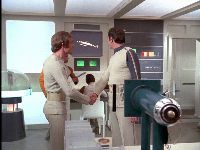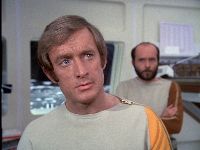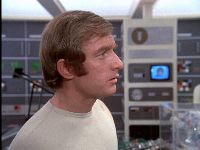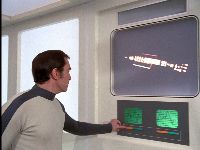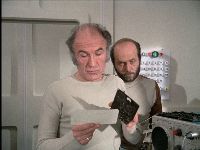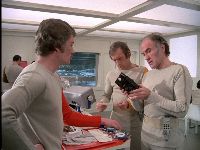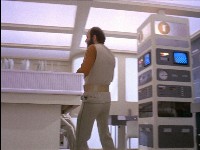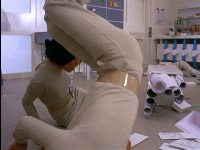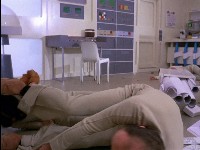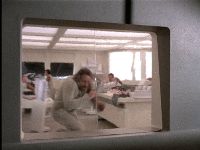 This view is from the Eagle hangar, looking into the flight control (the reverse of the view with Koenig and Carter). This shot is seen in both Breakaway and Force Of Life.
The set is 32ft x 32ft (9.75m square).