Bergman's spheres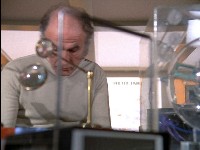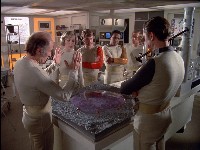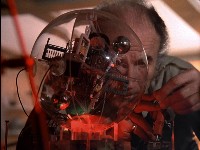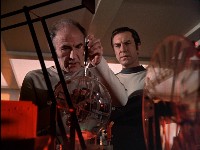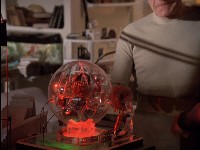 The sphere appears in Victor's quarters in Matter of Life And Death and Black Sun, but it's barely visible at the side of the frame. It has a starring role, outside the box, in Ring Around The Moon. The scene opens with Victor inspecting and adjusting the sphere, very like the title shot (which was actually filmed a few months later, when Alpha Child was filmed). Victor is describing the Triton sphere, so the sphere is a metaphor for it. Victor demonstrates how to "breaks the chain" by pulling a wire to the sphere, causing sparks.
The prop was created by Century 21 Film Props/Computer Printout for the 1972 BBC ghost drama The Stone Tape. It was created at the same time as the green pipe often seen alongside it. More details.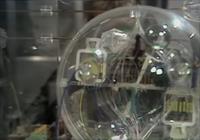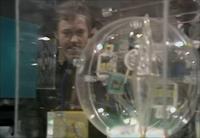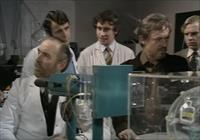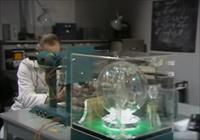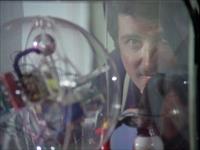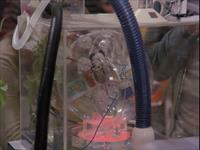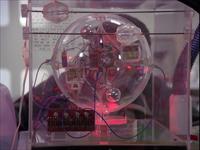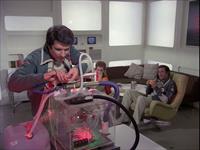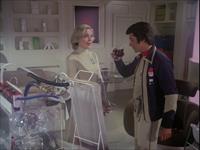 Tony's beer making machine includes the smaller sphere, under a rocking lava wave machine (probably a model by Lava-Simplex called the "Adriatic"). It first appears in a shot closely echoing the Bergman credit shot, in Journey To Where. It can be seen clearly in the opening shot and end sequence of A Matter Of Balance, and it appears at the end of Catacombs Of The Moon.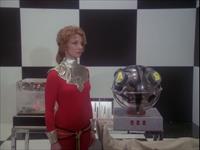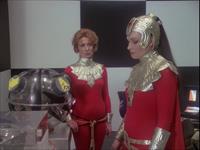 Both spheres appear in Devil's Planet in the Entra security ward, probing Koenig's brain. The larger one has jagged strips of black tape stuck over it. The smaller sphere is still in a perspex box, but mostly obscured by a mesh in front. Tony's beer making attachments including the lava-wave rocker have gone.
---
Copyright Martin Willey