Essential services hatch
The Essential Services button is used to reduce Alpha's power to minimal life support capacity. It is hidden behind a hatch in a computer panel. The panel, and other closely related switches, are located at various points around Alpha.
The "Auxiliary services only" button in Main Mission is seen in Guardian Of Piri, and the "Essential services only" in Computer Room is seen in Space Brain. The function is also run in Black Sun but the button is not seen (the panel is present, so the scene was probably cut). The "Atmosphere Control" is seen in One Moment Of Humanity. An unidentified power button is seen in the Power Room in The A B Chrysalis. A "Destruct" button is seen in Voyager's Return. The "Do Not Open" dial is seen in the Nuclear Power Station in Earthbound.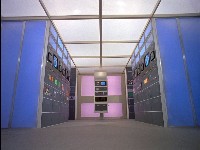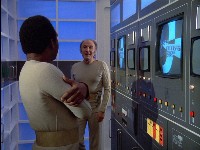 The panel first appears in Black Sun in the Computer Room. It appears on either side of the computer column (in reality, the column only had one side, and they turned it round for the shot in the side corridor).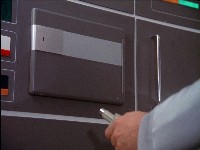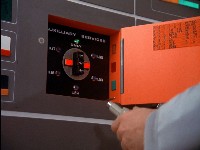 Auxiliary Services in Guardian Of Piri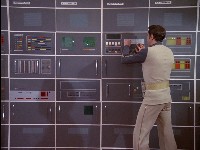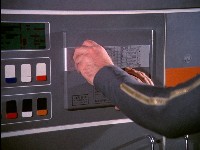 Space Brain: the Computer Room Essential services button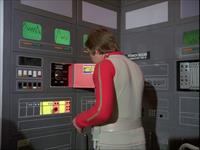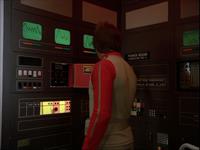 The A B Chrysalis: in the Power Room, it is now the "Power Control".
---
Copyright Martin Willey