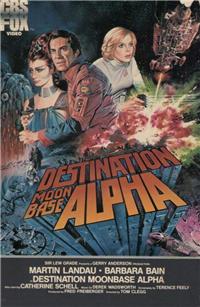 USA 1983-1987?
Strangely the synopsis on the back is that of Alien Attack/Breakaway, not Bringers Of Wonder / Destination Moonbase Alpha. Because Fox retained the rights to the episodes/compilation film, Bringers Of Wonder was not released on US laserdisc.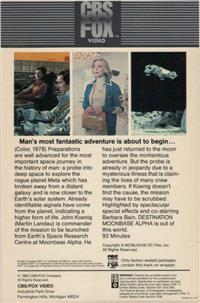 ---
Two titles released in the USA for $39.95 each by USA Home Video (International Video Entertainment/ IVE).

Each movie has a sexually suggestive introduction by the actress Sybil Danning. She calls both Space: 1999 despite the date of 2100 given in Alien Attack. The movies themselves were uncut but the poor quality prints lacked detail and colour. When Martin Landau and Barbara Bain were shown these videos at a convention they were appalled at the poor quality and dubious taste. The Landaus brought legal action which led to these videos being withdrawn from sale. Danning's introductions can be read in full here.

Packaged in a large box, featuring the series logo "Space: 1999", a photo of Danning in a bizarre silver suit, and a relatively crude painting. The back cover is a large photo of Danning.

Alien Attack cover: Right is a 2001 astronaut with circle/triangle motif badge on his shoulder; left is Koenig holding Helena (a Year 2 publicity pose; Koenig in yellow Year 2 jacket; Helena in body armour). Top left is an upside down Eagle (sort of!) firing lasers
Journey Through The Black Sun cover: Arra purses her lips; Koenig is restrained by an Alphan; an Eagle fires a laser beam at space mines; the black sun is top right.

Journey Through The Black Sun was reissued with a new box, without Danning on the cover or tape.
---
USA: Released 30th Jan, 1991; $14.95 each
A series of 4 tapes, each with 1 episode. The limited promotion resulted in poor sales and precluded further titles.
The covers featured 3 photos: top, beneath the logo, was an Eagle under a planet (from "The Metamorph"); bottom and left were Koenig and Helena posing for camera (Year 1 publicity, reversed); right was a shot from that tape's episode. Above the logo was the caption: "Not since Stanley Kubrick's 2001 have sci-fi freaks had the chance to trip out on so much surrealistic gimmickry. Newsweek").
The back covers featured text over a section of a photo of the base and the alien planet from "Collision Course". Headlined "Escape Into A World Beyond Belief!" the text noted credits (Landau's Academy Award nomination for Crimes & Misdemeanours, Bain's three Emmys for Mission Impossible, and Charles Crichton's A Fish Called Wanda) and used standard episode descriptions. "Original Uncut Episode! A Must-See for all Science Fiction Fans!"
The card covers were actually slipcases, smaller than the plastic cases most tapes were sold in.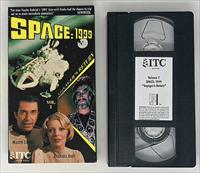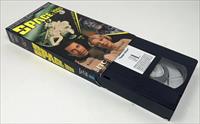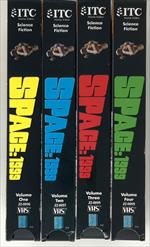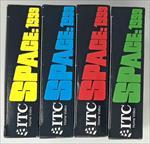 The end of each tape featured short trailers for the other 3 volumes (taken from the episode title sequences).
A 22 x 28cm 2 page glossy colour leaflet promoted the videos ("* Critical Acclaim; * Millions Of Loyal Fans; * Star Power; * Priced To Move!"). Also including quotes from Kathy & John Von Kamp (presidents of the International Space: 1999 Alliance) and Robert Wood (president of Alpha League); neither were accurately quoted.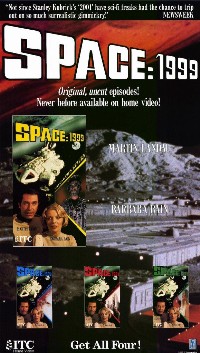 The "Spectacular theatrical size poster" was 23 inches x 40 inches / 58cm x 100cm.
---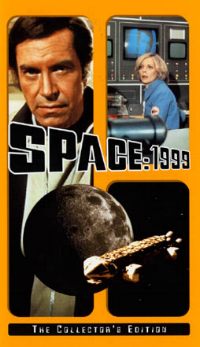 USA: Released from Nov 1997; $19.95 each plus shipping & tax (volume 1 is $4.95)
Columbia House was established by Columbia Records in 1955 in the US, selling records by direct mail. By the late 1990s it was part owned by Sony and Time Warner, but was struggling to compete against internet sales, especially from amazon. Space: 1999 was included in the Columbia House "re/tv" video library. US customers could "subscribe", receiving videos at 4-6 week intervals until the end of the run (it was notoriously difficult to cancel).
Ten volumes were released, each with two episodes (one at random from each season).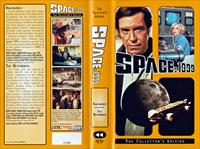 All the covers were identical: an orange background, a tall photo of Koenig (Yr 2), with smaller photos of Moon, Eagle and Helena.
The back covers (with four small pictures, again the same on every volume) include a short description of each episode by Allan Asherman, a TV and film writer best known for his work on Star Trek and Superman.
---
USA: Released from Jan 30 2001; VHS sets $29.95 each; DVD sets $39.95