---
The Complete Season One (Blu-ray): US 14 December 2010 $99.95
A&E announced their Blu-ray set in July 2010, before the UK Blu-ray set was announced. Street date was originally 2 November (with 6 discs in the set); it slipped to 16 November (but now with 7 discs), slipped again (in October) to 30 November and then (in late October) to 14 December. First copies arrived at the start of December.
The set was authored by Network and is identical to the UK set apart from the packaging and some minor extras.
The Prints
The menus and contents of both the Blu-ray discs and extras DVDs are identical to the UK Blu-ray set. The Network logos are still present, but preceeded by an A&E logo.
The prints are 4:3 pillarboxed. There are 5 episodes per Blu-ray disc. The 6th and 7th discs are standard DVD discs containing the (standard definition) bonus material.
The soundtrack is in both original mono and a 5.1 remix. There is also a music only track. Most episodes have all three audio tracks, but Breakaway and Dragon's Domain have commentaries which mean one audio track is sacrificed (the music-only track).
Packaging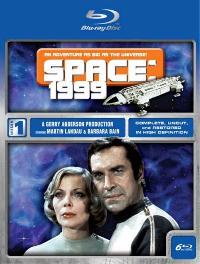 Original cover (note "6 discs").
The standard cover image used by retailers is similar in style to the US DVDs.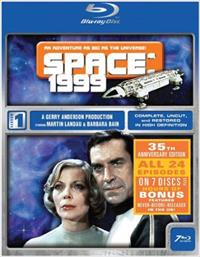 Extras
The extras are almost identical to the UK set. Missing are the Horizon behind the scenes footage, the Lyons Maid ice lolly commercial and the PDFs. The Metamorph makes an unannounced appearance, and the Sylvia Anderson interview is the same length as the UK set, contrary to earlier reports.
Discs
Disc
Episodes
Extras
Disc 1

Breakaway
Matter Of Life And Death
Black Sun
Ring Around The Moon
Earthbound

Gerry Anderson commentary on Breakaway (no music only track)
HD photo gallery: Breakaway (80 photos)
HD photo gallery: Breakaway PR and behind the scenes (168 photos)
HD photo gallery: Matter Of Life And Death (76 photos)
HD photo gallery: Matter Of Life And Death behind the scenes (69 photos)
HD photo gallery: Black Sun (57 photos)
HD photo gallery: Black Sun Ageing Make up (23 photos)
HD photo gallery: Ring Around The Moon (71 photos)
HD photo gallery: Earthbound (70 photos)
HD photo gallery: Earthbound Lew Grade visit and behind the scenes(71 photos)
HD photo gallery: Earthbound This is Your Life Roy Dotrice (21 photos)

Disc 2

Another Time, Another Place
Missing Link
Guardian Of Piri
Force Of Life
Alpha Child

HD photo gallery: Another Time, Another Place (61 photos)
HD photo gallery: Missing Link (28 photos)
HD photo gallery: Guardian Of Piri (78 photos)
HD photo gallery: Force Of Life (19 photos)
HD photo gallery: Alpha Child (63 photos)
HD photo gallery: Generic and portrait shots (99 photos)
Disc 3

The Last Sunset
Voyager's Return
Collision Course
Death's Other Dominion
The Full Circle

HD photo gallery: The Last Sunset (49 photos)
HD photo gallery: Voyager's Return (20 photos)
HD photo gallery: Collision Course (58 photos)
HD photo gallery: Death's Other Dominion (87 photos)
HD photo gallery: The Full Circle (58 photos)
HD photo gallery: Behind the scenes and original contact sheets (42 photos)
Text commentary by Chris Bentley on The Last Sunset
Disc 4

End Of Eternity
War Games
The Last Enemy
The Troubled Spirit
Space Brain

HD photo gallery: End Of Eternity (59 photos)
HD photo gallery: End of Eternity deleted scene (14 photos)
HD photo gallery: War Games (68 photos)
HD photo gallery: The Last Enemy (52 photos)
HD photo gallery: The Troubled Spirit (35 photos)
HD photo gallery: Space Brain (15 photos)
HD photo gallery: Models and model making (112 photos)
HD photo gallery: Storyboard breakdown (30 photos)
Text commentary by Chris Bentley on Space Brain
Disc 5

The Infernal Machine
Mission Of The Darians
Dragon's Domain
The Testament Of Arkadia
The Metamorph

HD photo gallery: The Infernal Machine (42 photos)
HD photo gallery: Mission Of The Darians (64 photos)
HD photo gallery: Dragon's Domain (47 photos)
HD photo gallery: Testament Of Arkadia (35 photos)
HD photo gallery: Bassett sweet cigarette cards (101 photos)
HD photo gallery: Donruss bubble gum cards gallery (68 photos)
full screen and widescreen series one textless titles
Unfinished generic textless opening titles
textless episode material (mute)
textless end titles
Gerry Anderson commentary on Dragon's Domain (no music track)
Disc 6

Disc 7

Copyright Martin Willey. Thanks to David Penn.
packaging and screen images copyright A&E Video