---
The Complete First Series (Blu-ray): UK 1 November 2010 £79.99.
The Complete First Series (DVD): UK 1 November 2010 £49.99.
Network discontinued their DVD Year 1 box set in May 2010 and announced their Blu-ray set in July 2010 for October 11th. In September the release date slipped to 1st November (Network actually mailed the preordered sets on October 26, so the first arrived on the 27th). The details of the DVD version first appeared in October.
The Prints
Note: screenshots are compressed, and are not representative of the quality of the Blu-ray image.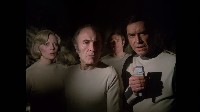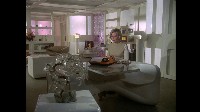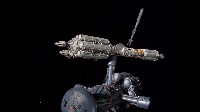 The prints are the same as the DVD set, but for the first time in full high definition. More details. The picture is in the original 4:3 ratio (not cropped).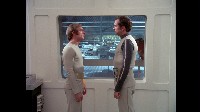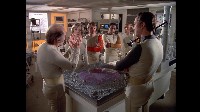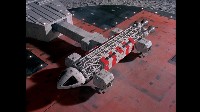 Although officially Blu-ray region B (Europe), it seems they are region free. The extras DVDs are encoded regions 2 and 4.
Sound
The soundtrack is also the same as the DVDs, in both original mono and a new DTS 5.1 remix (the packaging states DD5.1, which is inaccurate). There is also a music only track. Most episodes have all three audio tracks, but Breakaway and Dragon's Domain have commentaries which mean one audio track is sacrificed (the music-only track). The Metamorph is mono only.
Packaging
There is a 46 page booklet, which is a reprint of the 2 booklets from the previous Network DVD set.
A Television Series is born by Gerry Anderson (p2-4)
Back to the Future by Michael Richardson (p5-37)
Restoring Space 1999 by Jonathan Wood (p38-46)
The initial cover image used by retailers shows the Moon with an Eagle. Network used a special "limited edition" slipcover, the cover image showing Moonbase Alpha (further details below). The standard cover features Landau and Bain plus a small Hawk and the Black Sun; the logo is at an angle.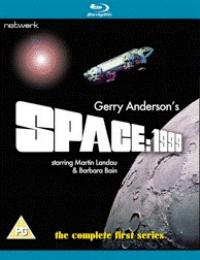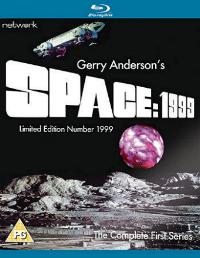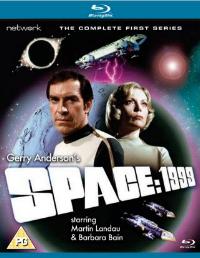 The Network "limited edition packaging" is a special set of slipcases (within the slipcase, the packaging is identical to the standard release). There is a total run of 1,999, each with one of 50 slightly different designs. The logo and Moonbase Alpha are fixed, but there are different spaceships and planets in different positions around the logo. There are 3 different spaceships (two shots of the Eagle, one of the War Games battlecrusier), and eight different planets (including the black sun).






DVD release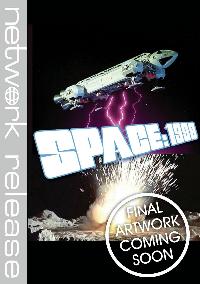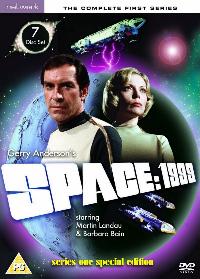 The DVD release also features 7 discs. The two extras discs are identical; the five discs with the episodes are standard DVDs with identical menus to the Blu ray. The episodes are obviously in standard definition, and the HD photo galleries and other extras are missing.
Menus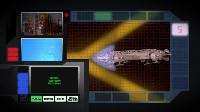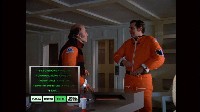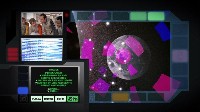 Extras
Each Blu-ray episode disc contains a set of HD resolution photos, in colour and black and white. Most of the remaining extras are on 2 standard DVDs (so not in HD format), and are largely the same as the previous UK DVD sets.
The DVD edition extras seem not to include The Metamorph (details to be confirmed)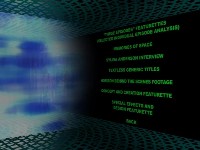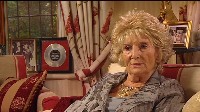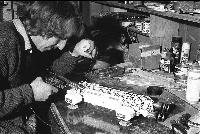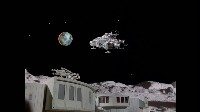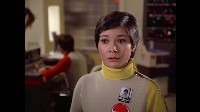 Disc
Episodes
Extras
Disc 1

Breakaway
Matter Of Life And Death
Black Sun
Ring Around The Moon
Earthbound

Gerry Anderson commentary on Breakaway (no music only track)
HD photo gallery: Breakaway (80 photos)
HD photo gallery: Breakaway PR and behind the scenes (168 photos)
HD photo gallery: Matter Of Life And Death (76 photos)
HD photo gallery: Matter Of Life And Death behind the scenes (69 photos)
HD photo gallery: Black Sun (57 photos)
HD photo gallery: Black Sun Ageing Make up (23 photos)
HD photo gallery: Ring Around The Moon (71 photos)
HD photo gallery: Earthbound (70 photos)
HD photo gallery: Earthbound Lew Grade visit and behind the scenes(71 photos)
HD photo gallery: Earthbound This is Your Life Roy Dotrice (21 photos)

Disc 2

Another Time, Another Place
Missing Link
Guardian Of Piri
Force Of Life
Alpha Child

HD photo gallery: Another Time, Another Place (61 photos)
HD photo gallery: Missing Link (28 photos)
HD photo gallery: Guardian Of Piri (78 photos)
HD photo gallery: Force Of Life (19 photos)
HD photo gallery: Alpha Child (63 photos)
HD photo gallery: Generic and portrait shots (99 photos)
Disc 3

The Last Sunset
Voyager's Return
Collision Course
Death's Other Dominion
The Full Circle

HD photo gallery: The Last Sunset (49 photos)
HD photo gallery: Voyager's Return (20 photos)
HD photo gallery: Collision Course (58 photos)
HD photo gallery: Death's Other Dominion (87 photos)
HD photo gallery: The Full Circle (58 photos)
HD photo gallery: Behind the scenes and original contact sheets (42 photos)
Text commentary by Chris Bentley on The Last Sunset
Disc 4

End Of Eternity
War Games
The Last Enemy
The Troubled Spirit
Space Brain

HD photo gallery: End Of Eternity (59 photos)
HD photo gallery: End of Eternity deleted scene (14 photos)
HD photo gallery: War Games (68 photos)
HD photo gallery: The Last Enemy (52 photos)
HD photo gallery: The Troubled Spirit (35 photos)
HD photo gallery: Space Brain (15 photos)
HD photo gallery: Models and model making (112 photos)
HD photo gallery: Storyboard breakdown (30 photos)
Text commentary by Chris Bentley on Space Brain
Disc 5

The Infernal Machine
Mission Of The Darians
Dragon's Domain
The Testament Of Arkadia
The Metamorph

HD photo gallery: The Infernal Machine (42 photos)
HD photo gallery: Mission Of The Darians (64 photos)
HD photo gallery: Dragon's Domain (47 photos)
HD photo gallery: Testament Of Arkadia (35 photos)
HD photo gallery: Bassett sweet cigarette cards (101 photos)
HD photo gallery: Donruss bubble gum cards gallery (68 photos)
full screen and widescreen series one textless titles
Unfinished generic textless opening titles
textless episode material (mute)
textless end titles
Gerry Anderson commentary on Dragon's Domain (no music track)
Disc 6

Disc 7


Clapperboard Two Part Special on Gerry Anderson (restored and edited - to remove non-Anderson material - 38m:56)
Guardian of Piri Remembered - Catherine Schell (1m:36)
Barry Gray's Theme Demo
Martin Landau and Barbara Bain introduce the US Season One Premiere (from KRON-TV, 1975; 1m:52)
SFX Plates and Deleted SFX Scenes with Music Track (11m:35)
Alien Attack Trailers * 3 (3m 35)
Journey Through The Black Sun Trailer (1m:50)
Ad bumpers (4 reconstructed logo, 1 Journey through the Black Sun logo, 36 seconds)
Lyons Maid ice lolly commercial (27 seconds)
PDFs (accessible on PCs only): Selected script PDFs (20 episodes including Void Ahead)
PDFs (accessible on PCs only): Space: 1999 Annual (1975 and 1976) PDFs
PDFs (accessible on PCs only): 1989 ITC Flyer
PDFs (accessible on PCs only): Series 1 episodic synopses