---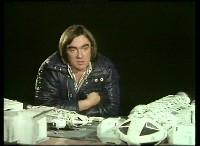 On 23rd December 1974, the BBC's science programme Horizon broadcast an edition called "How On Earth Do They Do That?", looking at film special effects. All the DVD editions include this piece, including Carlton volume 4 and A&E volume 14. Although short, this is a fascinating glimpse at the models and SFX filming for Year One.
The narration is read by BBC newsreader Richard Baker, with comments by SFX director Brian Johnson. The segment began with a clip from Breakaway, as the robot Eagle goes out of control over Area Two.
These shots are from Space: 1999, a new television series, a successor to Thunderbirds, due to start early next year. They were filmed by Brian Johnson in England.

This is Alpha Moonbase, a plaster model.

Several good views of the Moonbase model. A SFX storyboard can be seen before the table top. The kit-part detailing is clear in the bright lights. Although the shots demonstrate how the "windows" are illuminated (by reflecting light), the commentary doesn't explain this.

As the moon is colourless, black and white photographs can be used to put the landscape around scale miniatures like this intricate moon bus.

The hydraulic 44" Eagle launch pad is seen in revealing detail, and the camera pulls back to reveal how the Moonbase photograph frames the model.

A photographic glass shot. Brian Johnson designed the spacecraft.

The SFX scene is from Guardian Of Piri. This is not the scene being filmed (which was never used in any episode).

"As it was based on the Moon, it didn't have to be aerodynamic. I chose a sort of girder structure, so it's busy from a photographic point of view. And I made it insect like. The head of it is basically like an insect, because that's fairly aggressive and interesting."

The 44" Eagle model and the 22" Eagle model are featured; the 11 and 5 inch Eagles are just visible.

To get the intricate detail which makes a miniature look real, model builders often use components from plastic kits.

"I use a surprising variety of kits, even parts out of girder bridge kits and railway engine pieces. You use them because they have beautiful detail. That's the main thing. Detailing costs money. You buy a plastic kit for a pound. You have a lot of work which you can use in the model for a small outlay in cost."

A slow pass along the doomsday bomber from Alpha Child and War Games, brightly illuminated to show the intricate detail.

To make a miniature travel in the blackness of space needs no complex trickery. To get the apparent motion, the camera is tracked slowly past it. The spacecraft is on the left, against the screen.

The 22" Eagle model is mounted on a rod, and Brian Johnson covers the mounting with black cloth.