---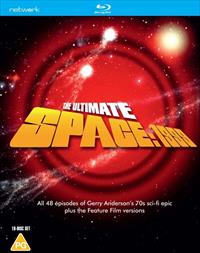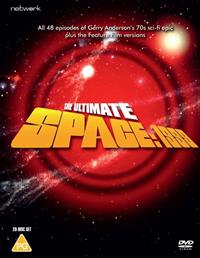 The pack title is "The Ultimate Space: 1999", but Network uses the title "Space: 1999: The Ultimate Collection"
UK, 28th March 2022. The Blu-ray set has 18 discs (16 Blu-ray/2 DVD); the DVD set has 20 discs, £50-£70
This box set is a compilation of the previous releases Complete First Series (2010), Complete Second Series (2015) and Super Space Theater (2022). The episodes, movies and all extras including photo galleries are exactly the same.
Both Blu-ray and DVD edition packs are 189 x 149 x 51 mm, with a card sleeve around the case. The 18 discs are numbered and have new artwork (colourful airbrush nebula), but the content is the same as the original sets, including menus.
There is a 4-page leaflet which lists all the disc contents and extras. The original booklets from the first series and Super Space Theater sets are not included.