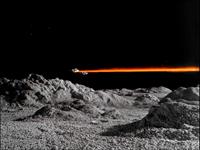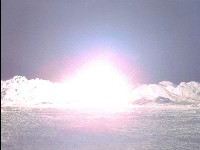 Alan and the second Eagle attack Gwent. As the Eagles retreat, Gwent fires at them. The scene 29 description reads "Just as the Eagles reach a range of mountains, the Machine opens fire with considerable overkill. The mountains explode." Later, after Gwent takes off, Alan confirms that "Both the Eagles have superficial damage, but they're operational." This is surprising, as the SFX shot shows the red laser striking at least one of the Eagles before the explosion. The script is deliberately ambiguous as to whether the Eagles survive, but the SFX shot, particularly the optical laser beam, suggests they shouldn't have. Thanks to Chris Dale and Gary O'Brien
The match between the Eagle shot and the explosion is imperfect. While the explosion shows the same lunar mountains, it is farther away, showing more of the right side, and the foreground hills are gone, replaced by a flat plain.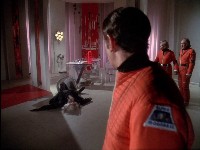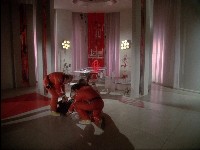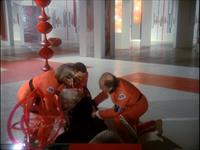 When Companion falls from his chair, Bergman puts the chair up. In the reverse shot, the chair is still on its side as Companion is helped up, and Bergman lifts it a second time.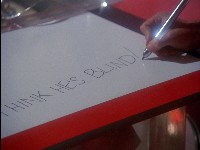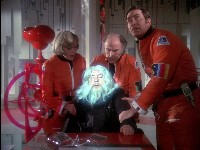 Where does Koenig's pen come from? We see it briefly on a perspex desk ornament after Companion collapses. Companion doesn't seem to write or draw, and Gwent is blind, so why is it there?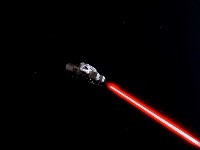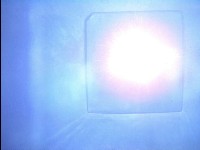 The last Eagle to be blown up shows the SFX studio ceiling for a few frames.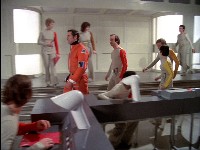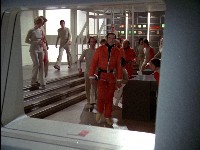 When Koenig returns to Main Mission, the first view shows his spacesuit zipped further up than the second view through the windows (he also walks a long way round).
Copyright Martin Willey.