Tony Allan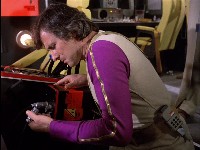 ---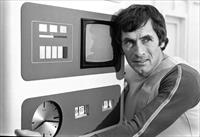 Tony's forename is given in Earthbound, and his surname Allan is seen on his helmet in Ring Around The Moon. In the script of The Testament Of Arkadia Tony and Quinton are named Irwin and N'Dole (Tony being Irwin), but they are not so named in dialogue. He is usually with Quinton; the only episodes they are not together are Another Time, Another Place (Tony only), Missing Link (Tony only), The Full Circle (Tony only), Black Sun (Quinton only) and The Last Sunset (Quinton only).
He is head of Security in Year 1 (and takes a place at the Command Conference in Guardian Of Piri).
His hair is short at the start of Year One. From The Full Circle he has a beard. He is clean shaven, but with longer hair, in the final two episodes, Dragon's Domain, and The Testament Of Arkadia. In certain scenes of The Last Enemy and Space Brain (filmed at the end of the series) he has a fake beard.
"Alright, come on! Keep it moving! Down to the shelters! Hurry up. Not much more time. Come on, hurry up. Keep it moving, down to the shelters." (Space Brain)
"We searched the whole section, Commander. There's no-one in here." (The Troubled Spirit)
"Commander. There's been an attack on the food store. Suspect, Anna Davis." (The Testament Of Arkadia)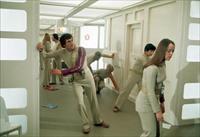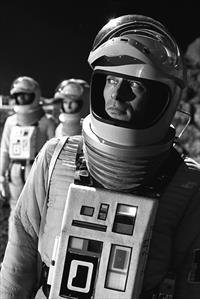 | | | |
| --- | --- | --- |
| Breakaway | When Nordstrom goes mad, Quinton and Allan are seen on the depot screen. "Get out there and bring Nordstrom in". When the breakaway starts, he is in a corridor with other Alphans (barely seen in the episode, but clearly seen in promotional photos) | |
| Matter Of Life And Death | When Lee throws Mathias to the floor, Quinton and Allan are the guards who run to restrain him, and then guard him throughout the interrogation. | |
| Black Sun | Stacking boxes in Eagle passenger module. | |
| Ring Around The Moon | In Eagle flight to Triton probe. | |
| Earthbound | In Rescue Eagle. | |
| Another Time, Another Place | Knocked out by Regina in the Moonbase corridor | |
| Missing Link | Restrains Alan Carter in Medical | |
| Guardian Of Piri | Takes part in Command Conference. On Piri he has his shirt off. | |
| Force Of Life | With Koenig following Zoref. | |
| Alpha Child | In corridor when Jarak emerges; accompanies Koenig to Medical | |
| The Last Sunset | He is only seen on the lunar surface, with his shirt off. | |
| Voyager's Return | Pass Queller in corridor when he leaves Medical for the lab | |
| The Full Circle | In first Eagle rescue party, he is transformed into caveman. Seen in Medical at end. | |
| End Of Eternity | In Main Mission, listens to Balor | |
| The Last Enemy | In Travel Tube to meet Dione, later guards her in Command Office, and stands guard outside Sandra's door | |
| The Troubled Spirit | In recital audience, and present throughout episode | |
| Space Brain | With Mathias, follows Kelly | |
| The Infernal Machine | Accompanies Alan with the supplies | |
| Dragon's Domain | In 1996 crowd. Recovers the black box in the Ultra Probe (1997?). On Eagle to dragon ship. | |
| The Testament Of Arkadia | On Eagle mission to planet. | |