[Information from Pele- Pele's homepage]. 2008 information thanks to Jonas Jansson
In 1976 Swedish Television (SVT, one of the only two channels at the time) broadcast 14 episodes from Year One. The series was considered too violent for the Swedish public and withdrawn at the end of December 1977. SVT could also be viewed in eastern Norway: Norwegian television never showed the series.
The series was titled Månbas Alpha 1999. The episodes were:
* No Archive = There is no information available at SVT's archive.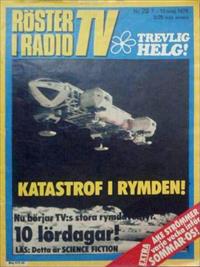 A Swedish TV listings magazine: Röster I radio TV", 7-13 May 1976, when the first episode of Månbas Alpha 1999 was shown. The title "Katastrof I Rymden" means "Disaster In Space".
"Nu Börjar TVs stora rymden - 10 lördagar! - LÄS: Detta är science fiction" -
Now TV's big space starts: - 10 Saturdays! - Read: This is Science Fiction".
In 1991 the Swedish cable channel ZTV broadcast the whole of the first series.
In 2008, a new science-fiction themed TV and satellite channel launched, called TV4 Science Fiction (also available in Finland, and projected to launch in Norway by end 2008). Episodes were shown on Mondays at 20:10, according to TV4 in "production order". The episode titles were not translated. According to Jonas Jansson, there were 20,000 viewers per episode, a high number for Sweden. In December 2008, Noble Entertainment released the series on DVD.
Date
Monday 25 August 2008
Monday 01 September 2008
Monday 08 September 2008
Monday 15 September 2008
Monday 22 September 2008
Monday 29 September 2008
Monday 06 October 2008
Monday 13 October 2008
Monday 13 October 2008
Monday 20 October 2008
Monday 27 October 2008
Monday 03 November 2008
Monday 10 November 2008
Monday 17 November 2008
Monday 24 November 2008
---