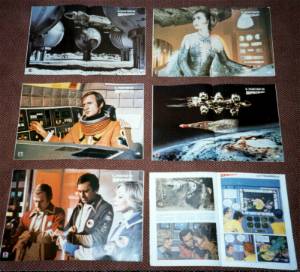 Published weekly by AMZ-Epierre; 500 lira (except last issue- 1500 lira)
24 colour pages each issue. Reprinting the Farinas-Cardona comic strips from Zack comic (2 per issue) plus a 4 page text episode adaptation illustrated with colour photographs (split in 3 parts, at the beginning, in the centre, & at the end). The centre (page 12-13) is a photographic poster. Covers were a Year 2 photograph.
The last issue had 50 pages, card covers and featured the Destination Moonbase Alpha artwork cover.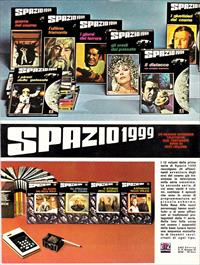 Back cover advert for the AMZ Gianni Padoan novels from the first issue.
No 1 (19 April 1979);
"Metamorfosi" (The Metamorph; text) part 1, p3,4,14,23

"Traguardo: La Terra" (Earthbound) p2-10,15-22

No 2 (26 April 1979);
"Metamorfosi" (The Metamorph) part 2, p2,11,14,23;

"Il Guardiano Di Piri" (Guardian Of Piri), p3-10,15-16

"Prigionieri Del Futuro" (Missing Link) part 1, p17-22

No 3 (3 May 1979);
"Metamorfosi" (The Metamorph) part 3; p2, 11,14,23;

"La Macchina Infernale" (Infernal Machine") p3-16

"Prigionieri Del Futuro" (Missing Link) part 2 p17-22

No 4 (10 May 1979)
"Metamorfosi" (The Metamorph) part 4 p2, 11,14,23;

"Il Testamento Degli Arkadi" p3-16;

"Un Altro Temp, Un Altro Luogo" part 1 p17-22

No 5 (24 May 1979)
"Metamorfosi" (The Metamorph) part 5 p2, 11,14,23;

"Rotta Di Collisione" (Collision Course) p3-16

"Un Altro Temp, Un Altro Luogo" part 1 p17-22

Supplemento Al N.5

Destinazione Base Alpha (June 1979)

"Metamorfosi" (The Metamorph) part 6 p23-26;

"L'Ultimo nemico" (Last Enemy) p1-10

"Nel Regno Del Mostro" (Dragon's Domain) p11-22

"La Trappola" (Full Circle) p27-36

"Il Figlio Della Luna" (Alpha Child) p37-48