Security Unit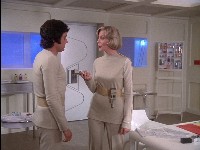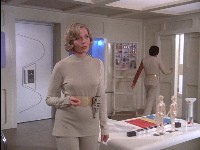 Medical Centre in Force Of Life has an observation room with an unusual swing door. Koenig describes it as "the security wing of the Medical Centre", although it is also used as a routine diagnostic room.
Filmed on L Stage, 30-31 May and 3rd June 1974. The other Medical Centre was filmed on L Stage on Friday 5th July 1974
We don't see the bottom left corner here. We see the length of the right wall when Zoref is wheeled into the isolation room.
The computer wall is the same wall as Diagnostic Unit 2 in the previous episode, Guardian Of Piri, although the room plan is different.
---
Copyright Martin Willey