June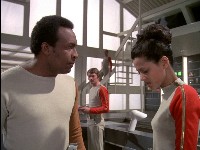 ---
June appears to be Kano's assistant. She is named in Missing Link, where she spills a tray of coffee and is told off by Kano. She says "Good morning, Commander" to Koenig in the corridor in Guardian Of Piri.
She was supposed to in Alpha Child, but, apparently at the last moment, she was replaced by Maureen Tan.
KANO: "You clumsy fool! Is it so difficult to carry a tray of coffee?"
MORROW: "That's enough, Kano."
KANO: "This inefficient.."
MORROW (angrily): "I said that's enough. You alright, June?" (To Kano) "Don't you ever do that again."