Nuclear Generating Area
Four Nuclear Generating Areas are mentioned in Force Of Life ("Nuclear Generating Areas 1,2,3 and 4"). Nuclear Generating Area 3 is seen in Force Of Life. An identical room, named the "Generating Area", is seen in Alpha Child (this could be either NGA 1,2 or 4).
Force Of Life scenes filmed on M stage on 6th-7th June 1974, resuming Monday 1st and 2nd July. The Alpha Child shots were filmed on Friday 5th July 1974.
Another design of nuclear reactor is seen as part of the Life Support Complex in The Exiles (actually it is a smaller complex than NGA3). Variations of the Year 2 Power Room (without the security area) are seen in One Moment Of Humanity and The A B Chrysalis.
The reactor door appears in other areas of Moonbase. The door was a prop from a previous film, and later appeared in the 1979 film A Nightingale Sang in Berkeley Square (thanks to David Cleary). It also appears in the 1981 TV series Hitchhiker's Guide to the Galaxy (thanks to Nick Macarty).
See also: the Main Power Unit and Life Support.
Illustrated in Moonbase Alpha Technical Operations Manual by Chris Thompson (2021); page 61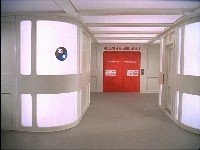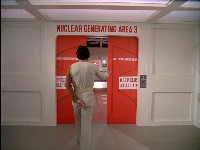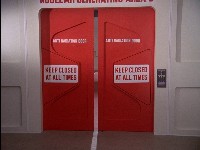 The red "Anti-Radiation Doors", prominently labelled "Keep Closed At All Times". These doors, coloured red here, were reused in the Experimental Lab in Voyager's Return, then they became the outer doors to the year 2 life support room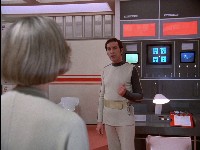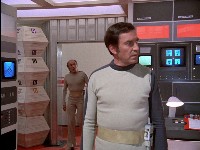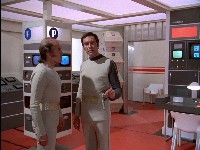 The corner of the hall, showing stacked storage boxes, and an arch leading to an unseen area.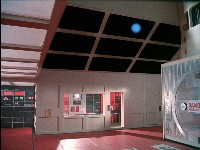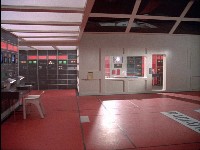 The office, with large windows above.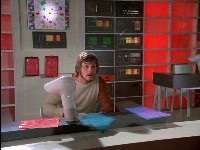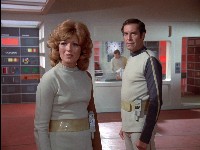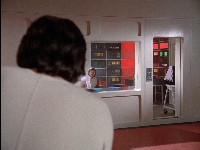 The office contains an illuminated panel similar to ones seen in the Command Office and Koenig's Living Quarters. An Alphan trolley-mounted display is visible.