Koenig's Quarters
Koenig's quarters are seen in Breakaway, Guardian Of Piri, Missing Link (the Zennite version, without wall panels but with the same general design), Collision Course and The Infernal Machine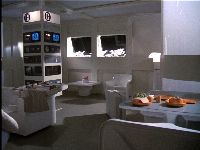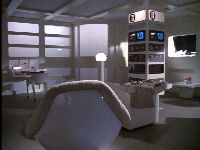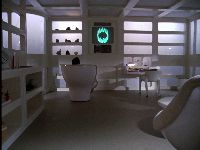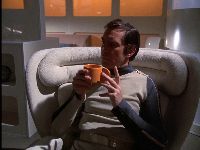 A good view of Koenig's quarters in Breakaway. The view is from where the door is positioned; normally the view is from where the windows are. The bed is just visible. This is a re-shot scene, probably around the time of Black Sun; the original living quarters scene in Breakaway included Gorski, and was cut. No photos of the scene or that set exist.
Below: the same view as a high-definition panorama.

Left to right:
Unlike later episodes, the room divider is not full of books. We can just see a yellow Gustavberg salad bowl on a bottom shelf, a Moon globe on a higher shelf, and a mirror on the top shelf.
On the wall shelves, the same rocks that appear in the Command Office.
Koenig sits in an Elda 1005 chair.
At the wall desk, a Sorella lamp and a Gaudi chair
In foreground, back to us, a Rodica Chair
In the background beyond the Rodica chair, a Giano Posacenere ashtray
Also hidden behind the Rodica, a Mezzatessera table
Beyond, and also on the other side of the viewports, Pileo floor lamps
Throwaway sofa, with Koenig's open suitcase on it.
Communications post, in an unusual position- normally it is closer to the door. Note it has the "C" designation; in later episodes Koenig's room has the standard "LQ" designation.
Vicario chair
Unibloc 4 dining unit. On the table, green apples and cheeses (Edam and Emmental, apparently)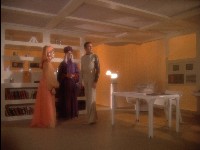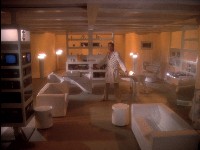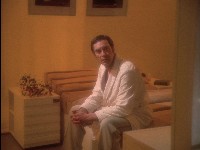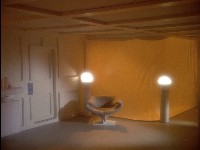 Koenig's quarters in Missing Link give a good view of the layout and furniture of the room, without (most of) the wall panels. There are Pileo floor lamps in each corner. The table is a Stadio 120 with Gaudi chair and a white Pio Manzu desk tidy. There are two Throwaway sofas, and two Giano Vano Ruote telephone tables. There is an Elda 1005 chair, and two Ribbon Chairs, one by the door. A Demetrio 45 stacking table is just visible on the right in the wide picture. The paintings over the bed, of Mars and Saturn's rings, are by Ludek Pesek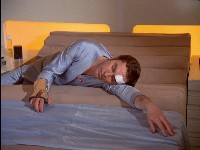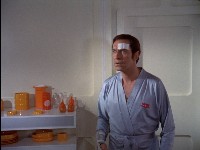 Guardian Of Piri. The contour bed rarely has sheets. We have a good look at the kitchen cabinet, also glimpsed briefly in Missing Link. The orange polypropylene pitcher is a 1957 Duett fruit pitcher and juicer made by the Swedish firm Gustavberg, designed by Carl-Arne Breger.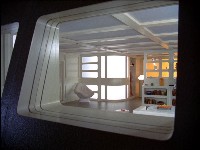 In the shot through the window, we see a Rodica Chair, the top of a Giano Vano Ruote telephone table, a Throwaway sofa and Mezzatessera table.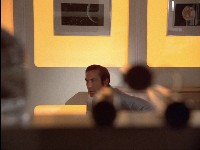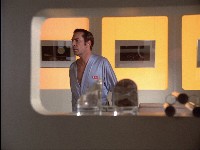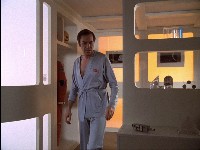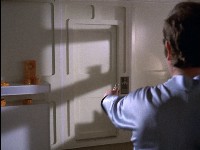 Collision Course. We see a bit more of the small paintings. These are space art by Ludek Pesek, also seen in Bergman's quarters.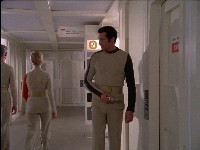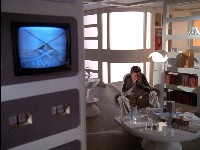 The Infernal Machine. We see the outside of Koenig's door, with the label "Alpha Commander John Koenig". Koenig sits on a Ribbon Chair in front of a Mezzatessera table, between a Ditzel bar stool and a Pileo floor lamp. An upside-down Gabbianelli vase sits on the shelf top.