Zoref's Quarters
In Force Of Life, we see the only married quarters in the series. Uniquely, the bed area has a wall and door separating it from the living room area.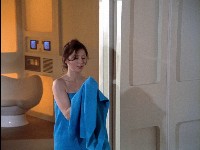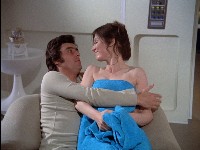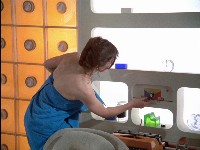 Anton sits on a Ribbon chair. Beyond is a Ditzel bar stool. At the wall desk, with the temperature controls, is a Triumph-Adler Gabriele 2000 electric typewriter. with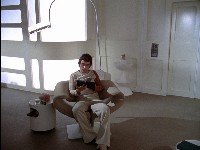 Zoref sits under an unidentified lamp, probably a variation of an Arco, designed by Achille Castiglioni in 1962 with a characteristic heavy Carrara marble base, but with a different light shade. Alongside the ribbon chair is a Giano Vano Ruote telephone table.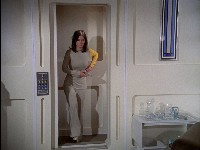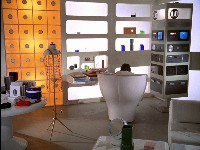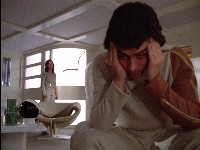 Zoref now sits in an Elda 1005 chair. On the wall shelf is an orange Gabbianelli vase on its side; there is a green Gabbianelli vase (designed by Studio O.P.I., 30cm tall, 14cm diameter) in the foreground by the mirror.
The room length is extended from the standard 36ft/11m of the standard plan to 44ft/13.5m, with a separated bed area and double doors. This is the only time we see the bathroom door open, but we don't see the opposite side of the bed area. The communications post is moved to one corner of the room.