Helena's Quarters
Helena's quarters are seen in Matter Of Life And Death (mirror-image design) and Dragon's Domain. Although the decoration is very austere, Helena has an interest in phrenology (or perhaps the history of medicine and psychology), Oriental design, and dried flowers.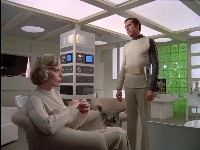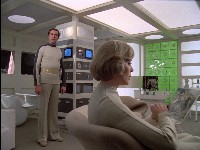 Helena sits in one of two Ribbon chairs. Beyond, on the left, we see a throwaway sofa, and the Unibloc 4 Dining Unit. The chair at the wall desk is a Selene, as is the one in the foreground.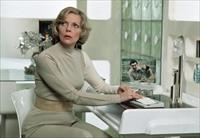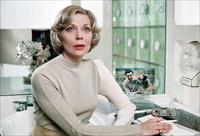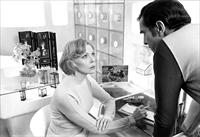 Publicity photos.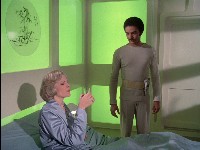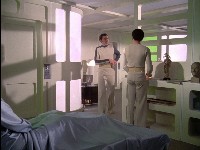 Helena has another phrenology heads. Note the Japanese design over her bed. At the side of her bed is a Giano Vano Ruote telephone table with a Sorella lamp.
The room is a mirror image of the standard plan. The entrance door is on the opposite side of the room. The bed area does not have an open cupboard, replaced a second door. Presumably one is a bathroom, the other a closet.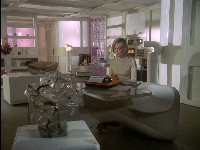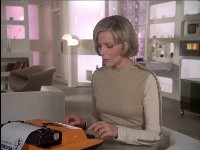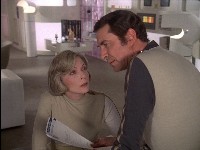 In Dragon's Domain, we see much of the same furnishings, even the same dried plant on the room divider. Helena is sat typing on her Triumph-Adler Gabriele 2000 electric typewriter on the Unibloc 4 Dining Unit. Beyond we see the throwaway sofa, Mezzatessera table and Ribbon chair. Even the display table with the lacquer table screen is present. There are two Pileo floor lamps, present on the original set but not seen on screen. There is a Lucciola desk lamp on the wall desk. In the foreground is a Demetrio 45 table, with the glass "bonsai" sculpture originally seen on the display table.
The room layout is mirror image of the Matter Of Life And Death version. Among the other differences, she has discarded the Phrenology bust, there is a different stool at the wall table, and the Encyclopaedia Britannica set has been replaced with other books. Lee Russell's picture is also gone. The lighted wall panels were green in Matter Of Life And Death but are mauve in Dragon's Domain.