Melita Kelly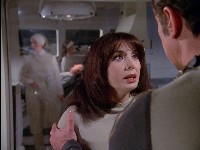 ---
Kelly's wife or girlfriend. In the script cast list and some publicity material, Melita is listed as "Melita Janni" - although the surname is never used in dialogue. They are married (Koenig talks to her about "her husband"), so it is possible that Kelly is a forename; alternatively Melita may use her maiden name. She calls him "Kelly"
"Commander, I want to stay here..."
"What is it? Tell me?"