Intensive Care Unit
The Intensive Care Unit in Space Brain features a fairly standard observation room (see also other Medical Units with Observation), with a few variations. The windows to the lunar surface are unusual. The observation window is also unusual- it is the narrower window seen only in Flight control in Breakaway, and in Medical in The Troubled Spirit.
The set was filmed on Friday 13th December 1974, and 16th-18th November.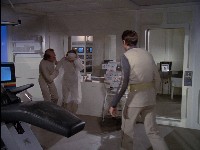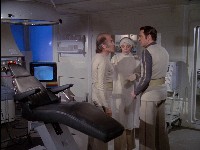 A wider view from the ICU, showing more Main Mission desks on the far wall of the observation room.
Plan
There are no elevations for the observation room, it only has blank panels with one side door.
---
Copyright Martin Willey