Medical Unit/Observation
We first see a medical room with an observation section in Alpha Child. The same basic set also appears, with modifications, in Dragon's Domain, The Troubled Spirit and End Of Eternity.. The ICU in Space Brain is a variation of this design.
See also the Isolation Room in Breakaway and the Medical Security Unit in Force Of Life (both with different window styles and a different plan).
Filmed as "Medical Department" on 15th-18th July 1974.
Filmed as "Medical Centre" on 27th-29th January 1975.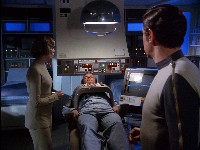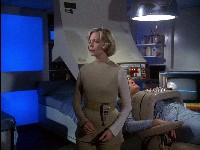 There are two standard beds.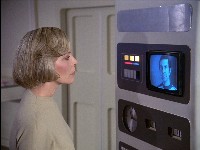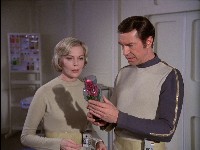 Another difference is the double door entrance (in Alpha Child, there is a single door further to the right). The observation room is at left.
Filmed as "Medical Department" on Friday 22nd November 1974, and 25th-27th November.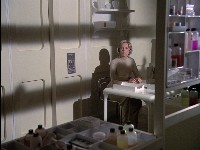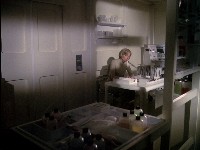 In this scene from The Troubled Spirit Helena is facing the two hospital beds. The length of this set varies; here it is a little longer.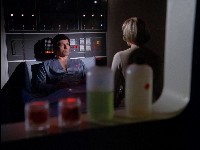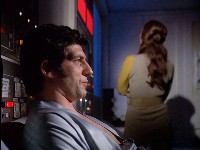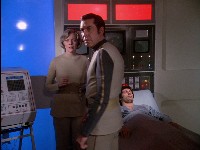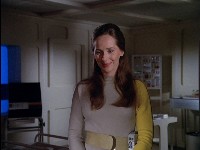 The hospital beds.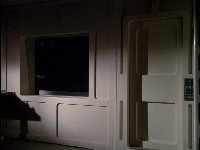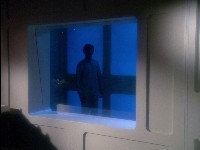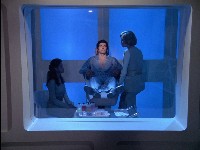 The smaller observation room is the same size as in Alpha Child. There is a single large observation window.
In End Of Eternity we see 3 medical rooms; the autopsy room, the intensive care unit, and a third room. the Medical Centre. The Autopsy Room and the ICU both have observation rooms, with the same layout but different computer configurations. The Medical Centre does not have an observation room.
These shots were filmed on 15th-16th October 1974; the Medical Centre set was filmed on 17th-18th October after the Baxter quarters sequences,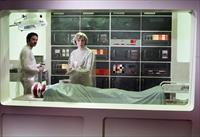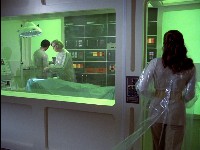 In End Of Eternity, the observation room (4x2 panels wide, now with two computers added) is used for operations and autopsies.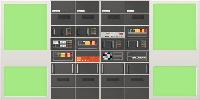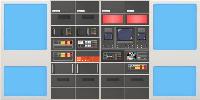 The autopsy room (green) and the ICU (blue) wall configurations.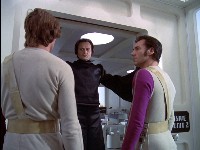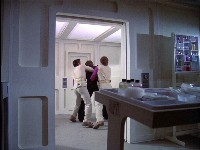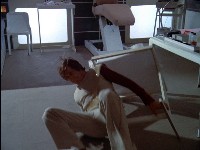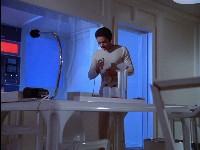 The main room of the Autopsy and Intensive Care Unit 2 have the same plan as the Medical Centre, without the observation room.