Intensive Care Unit (Isolation Ward)
The set in Breakaway was named the "Intensive Care Unit" in the script. It has single windows rather than a large observation window (we don't see the observation window plan until Alpha Child). We don't see the door between the monitoring room and the ward itself, but presumably it is alongside the windows.
Originally scheduled for filming 17th December 1973, these scenes were rescheduled for stage H on Wednesday 9th January 1974. As the last scenes of the episode, they were likely delayed; we know they finished the scenes on 11th January. Based the set changes (see below), it appears the sequences were shot in two blocks, with a later re-shoot which involved rebuilding the set.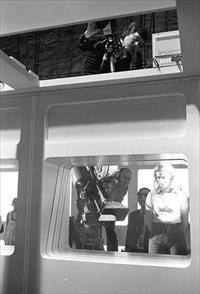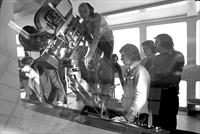 Filming on the set. The video camera in the ceiling is filming Sparkman's face, which is then shown on the screen being filmed by the 35mm camera.
Plan
Left wall and door is conjectural.
Observation Room Plan
Left door is conjectural. Initial computer panel configuration.
---
Copyright Martin Willey