Medical
Medical rooms in Year 1 varied considerably (more than twenty distinct configurations are seen). The two general plans were a hospital ward with two beds (usually on the opposite side to the door), or a two-room plan with one or more observation windows between them. In some episodes, the observation room was replaced with an open area instead. Convex wall units were sometimes used in the corners.
Medical rooms were often called "Diagnostic Unit" (see Diagnostic Unit in Breakaway, Diagnostic Unit in Missing Link and Diagnostic Unit 2 in Guardian of Piri).
A variation of the design appeared in the middle of year 1 (Medical Area). The other major plan featured an observation room (variations in Alpha Child, End of Eternity)
Almost all medical rooms feature a central shelf unit (also seen in year 1 living quarters).
We only catch a brief glimpse of the intensive care unit, in scene 75 after Bergman is electrocuted (filmed 19th February 1974).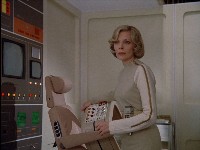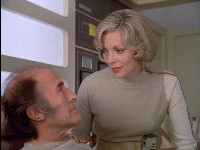 This diagnostic unit has no beds, only two diagnostic chairs (like the Diagnostic Unit in Breakaway). We don't see much of the right or facing walls apart from the corners; the position of the door is hypothetical.
The medical room in Another Time Another Place used by Regina, and later seen with the corpses of Koenig and Alan Carter, follows a similar design.
Scenes were filmed on 9th and 10th April 1974.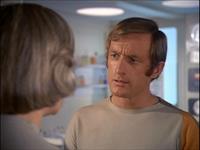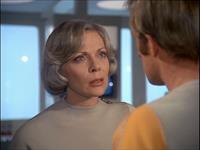 After Alan has placed Regina on the medical bed, Alan and Helena talk. Helena stands with the communications post behind her. In the reverse shot, we see another communications post beyond Alan. The shot is a cheat; the camera has barely moved, and it is the same communications post, and the same wall behind both actors. Barbara and Nick have merely swapped places so a new set wall didn't have to be constructed. The end wall was only built later. Thanks to Craig Rohloff.
There are three Medical rooms in End of Eternity; this Medical Centre, and two rooms with observation rooms, the Autopsy Room, and the Intensive Care Unit 2. The computers behind Balor are exactly the same for all three sets. This version, without an observation room, is seen three times- when Balor is first brought to Alpha and examined; when Baxter is examined by Helena; and finally when Balor visits Helena and Mathias during an operation on Alan Harris.
The scenes in the Medical Centre were filmed after the Autopsy/ICU scenes, on 17th-18th October 1974.
This set is introduced with a possibly unique camera move through the wall (rather than the door), tracking the Alphans moving Balor from the corridor into Medical.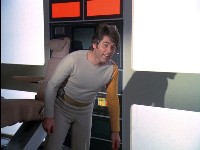 Corner of the room. Baxter and Alan Harris sit in the same reclining chair. In the initial Balor scene, there is a normal bed here.
---
Copyright Martin Willey