Medical
Medical rooms in Year 1 varied considerably (more than twenty distinct configurations are seen). The two general plans were a hospital ward with two beds (usually on the opposite side to the door), or a two-room plan with one or more observation windows between them. In some episodes, the observation room was replaced with an open area instead. Convex wall units were sometimes used in the corners.
Almost all medical rooms feature a central shelf unit (also seen in year 1 living quarters).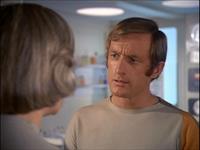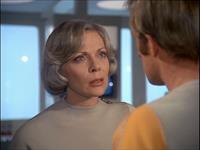 After Alan has placed Regina on the medical bed, Alan and Helena talk. Helena stands with the communications post behind her. In the reverse shot, we see another communications post beyond Alan. The shot is a cheat; the camera has barely moved, and it is the same communications post, and the same wall behind both actors. Barbara and Nick have merely swapped places so a new set wall didn't have to be constructed. The end wall was only built later. Thanks to Craig Rohloff.
---
Copyright Martin Willey