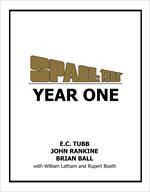 Powys 24 January 2020 (printing date December 2019). Revised adaptions of 1975 novels, with new material. Includes forewords by Tubb, Rankine and Ball, publishing history and editors notes. Limited edition of 200. 700 pages. Hardcover 220mm x 285mm with white dust jacket. The pages are printed in double columns.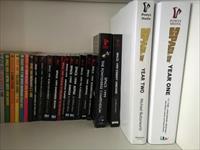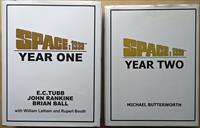 It is a companion volume to Space: 1999 Year Two (2006)
Based on the following material:
Revised versions of
Operation Deliverance by Rupert Booth (2019)
Force of Life by William Latham (2019)
End of Eternity by William Latham (2019)
Earthbound by Patricia Sokol (2019)
Breaking Ground by Patricia Sokol (2019)
Dust jacket front inner flap:
THIS OMNIBUS

SPACE: 1999 YEAR ONE is the long - awaited collection of of all the episodes of the series' first season episodes. Originally published as six separate volumes by authors E.C. Tubb, John Rankine and Brian Ball, this omnibus contains all the episodes that appeared in those original books but also contains a new novelization of the episode Earthbound (formerly not included in the individual novelizations), written by Patricia Sokol. There are also new novelizations of the episodes Force of Life and End of Eternity written by William Latham. Finally, a previously unpublished twenty-fifth episode, called Operation Deliverance, written by Rupert Booth, has been added.

All the episode novelizations have been revised for continuity with each other and with the rest of the "Powysverse" novels and short stories. The idea, from the beginning, has been to create an interconnected, internally consistent, literary epic tale of the Alphans' odyssey.

The editing team spent, literally, years working on this omnibus and are proud to finally publish it as the definitive chronicle of Moonbase Alpha for the enjoyment of the series' fans.

This omnibus, the companion to Powys Media's earlier SPACE: 1999 YEAR TWO by Michael Butterworth, features forewords by all three of the original novelizations' authors, a publishing history, and a detailed note from editors about the thoughts and methodology behind the editing process.
Contents
Notes
The conclusions have a succinct justification of this new edition:
The Editorial Team assumes that most readers still have their paperback copies of the original novelizations. The goal of the Year One Omnibus was never to supplant these original novelizations - only to supplement them and tie them together with Powys continuity - both versions will have value to most fans. The readers will be the ultimate arbiters of canon. This book represents our canon. If it cannot peacefully coexist with your canon, that's fine with us. Consider it an alternate universe if you must.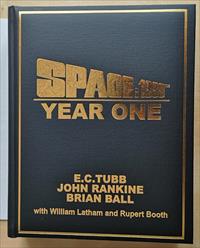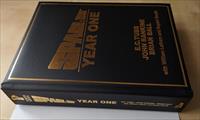 The white dust jacket covers the handsome black hardcover, with gold embossed lettering.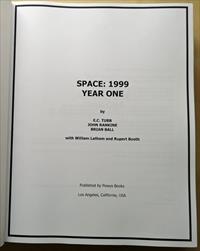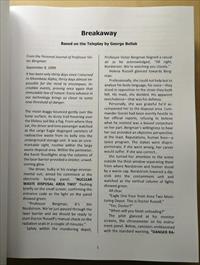 Signature page, title page, and main text.