Multi-function hatch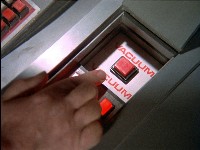 End Of Eternity; used to open an airlock. The label is "VACUUM".
The multi-function hatch lives on the right side of Paul Morrow's desk. It has a flip-up lid. Inside is an array of six lighted buttons (three red, three green) and a labelled red switch. It has a lambda wave detector to calculate what function it should fulfil (activate Red Alert, explode nuclear devices, divert orbiting capsules, open an airlock or fire a laser gun) and show the appropriate label. Trivia note: the scenes for all three Year 1 episodes were shot together on the same day.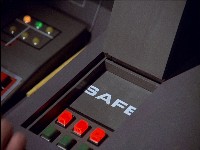 Collision Course: the nuclear detonator. A smaller hatch labelled "SAFE" covers the detonation button. Pressing one of the lower buttons makes the small hatch retract.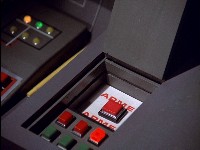 Collision Course: the smaller hatch retracted. The main button label is "ARMED".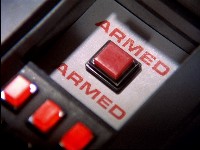 A close up.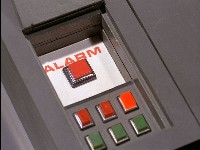 War Games: there is no inner hatch, and the button is labelled "ALARM". It activates the RED ALERT status throughout Moonbase Alpha.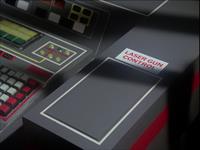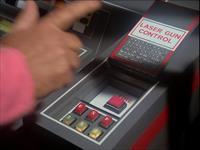 Here it is in Year 2: this is Seed Of Destruction. The button is labelled "FIRE". A sign on the inside of the top hatch helpfully states this is the "LASER GUN CONTROL". Note the lower buttons now have letters on them.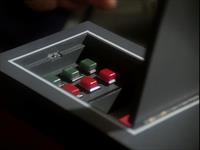 The Exiles: activates the "anti-gravity effect" that diverts the capsules in lunar orbit. One of the lower buttons is used. No label is seen.
---
Copyright Martin Willey