---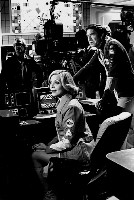 A number of "personalised promos" were produced for the various stations that broadcast Space: 1999 in the US and UK. In fact these Landau/Bain promos were mostly identical.
The opening zoom-in showed Landau and Bain on the Command Centre set, with crew and cast around. This is followed by a short compilation of clips from The Metamorph, with dialogue from Brian Blessed's Mentor heard over. Only the final scene, of Landau and Bain sat in front of a desk, differs; in each Bain and sometimes Landau name the station and the time the series is broadcast.
The films were shot on Sunday 8 August 1976; the director was Robert Lynn (visible on the film). A full crew of 60 people were present. The shots with Nick Tate and Tony Anholt were shot separately.
ITC publicity was ecstatic about these promos. WE HAVE SEEN THE NEW PROMO, and the audience is yours! We are that enthusiastic about the new promo done by the Landaus for your station. You should either have already received the Promo, or you will shortly. Play the promo. Give it maximum exposure. Martin Landau and Barbara Bain do a terrific job for Space: 1999 and your station.
You can see the promos on the US, UK, French, German and Spanish DVDs. The US discs have many different versions for different stations, although the colour is washed out compared to the UK version. Publicity still from the promo filming thanks to Mark Shaw.
Catherine Schell also recorded a promo, talking to camera in Command Centre just like the Landau/Bain promo. In addition, short "next week" promos were produced with Landau, Bain, Schell, Tate and Anholt.
ML: Hello, I'm Martin Landau.

BB: I'm Barbara Bain. The new Space: 1999 is more exciting than ever.

ML: We have Catherine Schell as Maya, the wonder woman of science fiction.

BB: And lots more.

Mentor: Commander!

I didn't want to hurt anyone!

Take her away, Koenig!
US ending. Landau's first line is always the same; their next lines vary by station.
ML: Don't miss the exciting new season of Space: 1999.

BB: It all happens 8pm Saturdays on Good-Looking Television 45.

ML: There is never a dull moment.
UK ending. Versions exist for "ATV Birmingham", "London Weekend Television", "Yorkshire" and "Independent Television" (the last a generic one).
ML: Don't miss the spectacular, all new Space: 1999.

BB: Coming to you soon, on ATV Birmingham.

ML: The future is fantastic.

BB: And, we hope, unforgettable.
---
Images copyright ITV Studios Global Entertainment
Page copyright Martin Willey