Maybe There - The Lost Stories from Space: 1999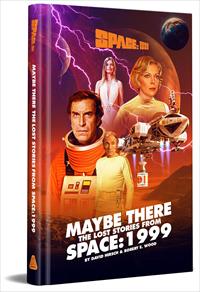 by Robert E. Wood and David Hirsch, introduction by Christopher Penfold
November 2022 Hardcover, 290 pages, 216 x 134 mm
US $28.99/ UK £24.99
Anderson Entertainment previously published the Moonbase Alpha Technical Operations Manual by Christ Thompson (2021). Hirsch and Wood wrote To Everything That Might Have Been (2022). Unlike that title, this book novelises original storylines and scripts.
The book was announced and available for pre-sale on 13 September 2022 from shop.gerryAnderson.com.
The novelisations turn the original script format into standard prose, but follows the script dialogue and original names. It does not attempt to update the stories or make them consistent.
Contents includes (to be confirmed):