---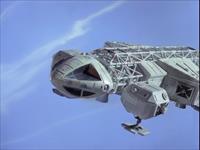 This is the third 44" Eagle model, built by Derek Freeborn Associates for year 2. Episode pictures. The construction is more robust than the first two 44" Eagles, with steel instead of brass framework, so the model could be crashed (for instance, in Devil's Planet and Immunity Syndrome).
The proportions are noticeably different to the first two Eagles, and some of the panel work is cruder. Unlike the first two, the rear engines were not fitted with gas jets.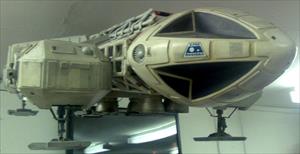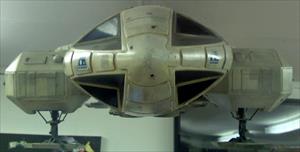 The command module has a slightly different shape, with bigger window sections. On the sides of the command module, the round inserts are different.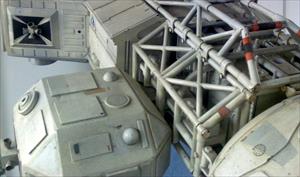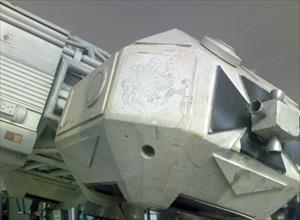 The side pods have a tank wheel on the upper sloping side. The clamps that hold the spine to the cages are inverted from the other two Eagles (fastened through the bottom -cage- rather than the top -spine-). On the bottom of the side pods, the corners are cut off, so the triangle shape is not equilateral.
The landing pad feet have on the upper surface different numbers of rectangular panels to the other Eagles (actually vinyl Sasco Year Planner stickers). Eagles 1 and 2 had five panels on each toe. Eagle 3 has four panels inside and outside, and three forward and back.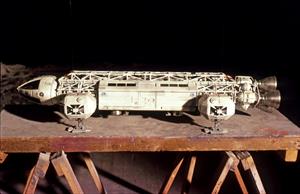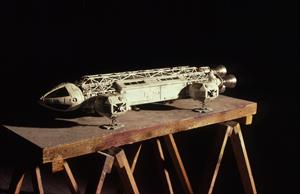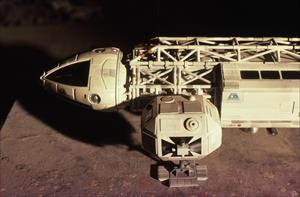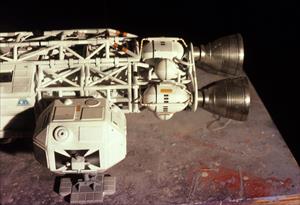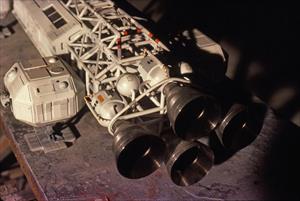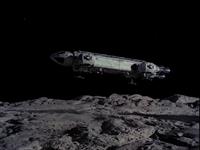 Eagle 3 with a normal transporter pod. Pictures by Robin Hill at Bray Studios, 20 October 1976. The setup is for scene 125 of The Seance Spectre; notice the lunar mountains are just photo cut-outs.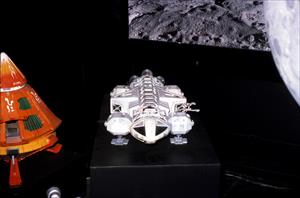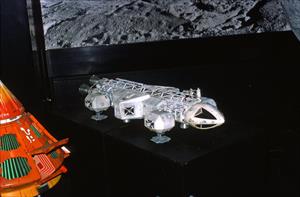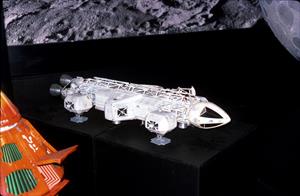 At Space City exhibition in Blackpool, UK in 1977 or 1978.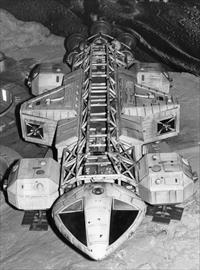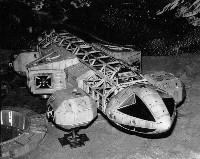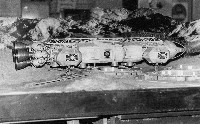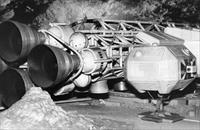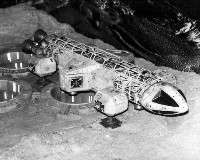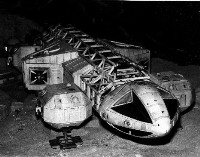 These pictures are from the final year of the Space City exhibition in Blackpool, UK, at the Pleasure Beach location in 1981. The lunar silos are from Gerry Anderson's Alien Attack puppet commercial. The model was paired with the booster pod (created for Year 1), and it has retained that pod ever since.
The most famous appearance of the booster pod is The Metamorph and (as the "lab pod") All That Glisters. It was built for and first appeared in several Year One episodes, starting with Guardian Of Piri.
The base of the pod is actually a cargo pallet (as used in Breakaway). The feet (replicas on this model) are identical to the Eagle's main feet. Only one of these pods was made for the series (which probably explains why there are so many continuity errors).
In the early 1980s, SFX director Brian Johnson owned the Eagle (see pictures).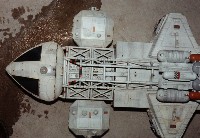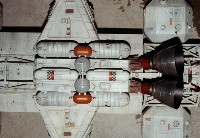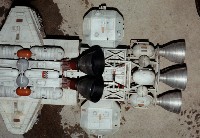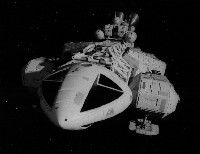 The model was then owned by Andy Hopkinson. He added a replica of the spine boosters (as seen in The Metamorph). The replica was built by Chris Trice, but modified by Hopkinson. The additional detailing is inaccurate to the studio model, but later replicas have copied this replica, persisting the inaccuracies.
The third Eagle made its debut in The Exiles, and never appeared in this configuration (the publicity shot shows Eagle 2 with the pod and boosters).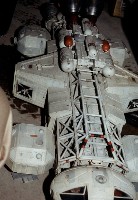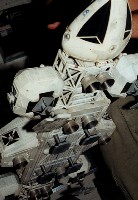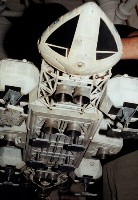 In 2008, the model was bought by Darren Peters and moved to Canada.
---
Images thanks to Mark Shaw
Page copyright Martin Willey