Space Pilot
Always a man of action, Nick Tate found adventure in Space: 1999.
Starlog #227 June 1996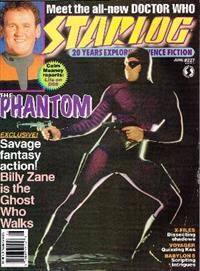 By Steve Eramo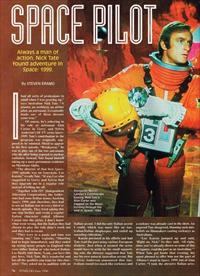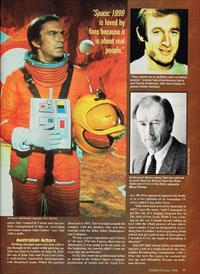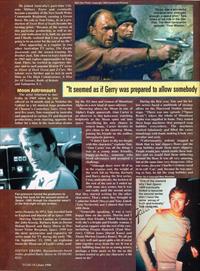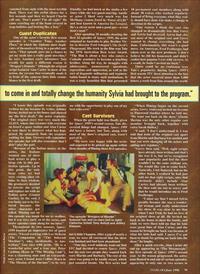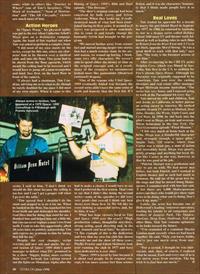 I had all sorts of professions in mind when I was growing up," says Australian Nick Tate. "A pianist, an architect, an airline , pilot, an astronaut. I eventually made one of those dreams come true."
Of course, he's referring to his role as astronaut Alan Carter in Gerry and Sylvia Anderson's SF-TV series Space: 1999. Tate's contribution to the program was originally supposed to be minimal. Hired to appear in the first episode, "Breakaway," he was to play one of the two astronauts who die after being exposed to nuclear radiation. Instead, Tate found himself taking up a more permanent residence on Moonbase Alpha.
"The director of that first Space: 1999 episode was an American, Lee Katzin," recalls Tate. "It was Lee who suggested to Gerry and Sylvia that they upgrade me to a regular role instead of killing me off.
"Together with ITC [Independent Television Corporation], the Andersons had some Italian money backing Space: 1999, and, therefore, they had to use an Italian star in every third or fourth episode. They tried taking this one step further and wrote a regular Italian character called Alfonso Catani into the series. I don't know what went wrong, but the Italian they had chosen to play the role didn't work out and they had to recast.
"They were in a panic and time was running out," Tate explains. "Shooting had to begin immediately and they ended up seeing many people in England who were either Italian or who looked Italian. Lee finally told them, 'Look, you have this guy here, Nick Tate. He's wonderful and has ail the qualities you want for this character.' They asked me to audition with an Italian accent. I did the only Italian accent I could, which was more like an Australian/Italian shopkeeper, and ended up sounding ridiculous."
Katzin persisted in his efforts and had Tate read the part using various European dialects. Just when it seemed the actor would have to settle for his small supporting role, the director suggested that Tate use his own natural Australian accent. But "Sylvia Anderson announced that Australians sound too much like cockneys and a cockney was already cast in the show. An angered Tate disagreed, blaming such mis-beliefs on filmmakers casting cockneys as Australians.
"Lee Katzin jumped up and said, 'Right on, Nick!' So they said, 'All right, since you've already shown us some of this arrogance, read the part as an Australian.' " When Tate got home that evening, his agent phoned to offer him not the part of Alfonso Catani in Space: 1999, but of Alan Carter. "I took the abrasive Italian arrogance they wanted in Catani and successfully transplanted it into an Australian astronaut named Alan Carter," says Tate with a smile.
Australian Actors
Drifting through space was only a fleeting thought in his mind while growing up. Tate was born in Sydney on June 18, 1942, the son of John Tate and Neva Carr Glyn, a well-known Australian husband-and-wife theatrical team. When his parents divorced in 1951, Tate travelled around the country with his mother, who was then touring with the John Alden Shakespearean Company.
"It was a great experience and I loved it," he says. "For me, I guess, there was no alternative. I was going to be an actor. At the beginning, my parents didn't want me to go into the profession."
At 14, Tate made his professional debut as Amahl in the Sydney Opera Company production of Amahl and the Night Visitors. He then appeared opposite his mother in a few episodes of an Australian TV series called Long John Silver.
"Television had arrived in Australia in 1957," says the actor, "and I managed to get the role of a singing telegram boy in The Skin of Our Teeth. While I was working on the set, I found myself falling in love with the whole process of how television is made. I was so intrigued by everything that I couldn't wait to get away from school and get a job in one of these places. I decided to try my hand at becoming a director."
Tate left high school before graduating and got a job as a studio hand for the Australian Broadcasting Commission (ABC). Over the next five years, he worked his way up, and ultimately, became an assistant director.
He joined Australia's part-time Citizens Military Force and eventually became a member of the New South Wales Commando Regiment, earning a Green Beret. His role as Tom Finlay, Jr. in a production of Sweet Bird of Youth became the turning point: "Because of the success of this particular production, as well as my love and dedication to it, both my parents and I finally realized that I was probably going to be an actor for the rest of my life."
After appearing as a regular in two other Australian TV series, The Purple Jacaranda and the award-winning My Brother Jack, Tate chose to leave Australia in 1965 and explore opportunities in England. There, he worked in repertory theatre and in such popular British TV series as Dixon of Dock Green and Z-Cars. His talents were further put to test in such films as The High Commissioner, A Man for All Seasons, Battle of Britain and Submarine X-l.
Moon Astronauts
The actor returned to Australia in 1969 when he was offered an 18-month stint as Nicholas the Gallant in a hit musical stage production of Chaucer's Canterbury Tales. Over the next five years, Tate remained in Australia and appeared in various TV and theatrical productions, even starring opposite his father for a time in the Australian drama series Dynasty. In 1973, Tate travelled back to England and blasted off in Space: 1999.
Starring Martin Landau as Commander John Koenig, Barbara Bain as Doctor Helena Russell and Barry Morse as Professor Victor Bergman, Space: 1999 was the most spectacular and expensive SF series made for TV during the early '70s. On September 13, 1999, an explosion blasts the Moon out of Earth's orbit, sending the 311 men and women of Moonbase Alpha on a new kind of space odyssey.
Hovering above the Moon in one of Alpha's Eagle spacecraft, Alan Carter is an observer to this holocaust, watching helplessly as the Moon spins out into space. Sacrificing his only chance to return home, Carter decides to give chase to the runaway Moon, joining his friends on the endless intergalactic journey.
"I didn't have to dig too deeply with this character," explains Tate. "Alan Carter was all the things I was as a young man: friendly, happy-go-lucky, someone who loved adventure and accepted a challenge.
"Although there were 10 of us in the regular cast, the weight of the work fell on Martin, Barbara and Barry during the first series. I was, undoubtedly, me luckiest of the rest of the cast as I ended up with some nice scenes, but it was not really until the second series that they started writing for the other characters. That's when they brought in Catherine Schell [Maya] and Tony Anholt [Tony Verdeschi] and I shared that work with them.
"Generally speaking, it was a very happy time on the series. Martin and I became close friends. I liked Barbara as well; she's a bright and friendly woman. I had great rapport with the rest of the cast , including Prentis Hancock [Paul Morrow], Clifton Jones |David Kanoj and Zienia Merton [Sandra Benes]. We all got on very well and spent quite a bit of social time together away from the set. It was a very fulfilling time for us as young actors, perhaps a little more so for me as the writers tended to give my character a bit more to do."
During the first year, Tate and his fellow actors faced a multitude of strange aliens on the Pinewood Studios sound stage. "There was one episode ["Space Brain"] where the whole of Moonbase Alpha was engulfed in foam. They rented these huge machines that pumped soap bubbles everywhere. The machines worked fabulously and filled the entire soundstage with foam, making it look very peculiar and eerie.
"Unfortunately, nobody stopped to think that we had slippery floors and the soap bubbles made them more slippery. People would just vanish inside these bubbles and we would find them slithering around the floor. It was all very amusing, but at the same time very dangerous. After one scene, director Charlie Crichton raced in to call 'Cut,' and, because he was moving so fast, he hit the soap bubbles and vanished from sight with the most terrible thud. There was this awful silence for a few seconds and then we heard Charlie call out, 'Don't panic! I'm all right!' He came crawling out of the foam covered in soap bubbles and looking like a Yeti."
Guest Duplicates
One of the actor's favourite first season episodes is "Another Time, Another Place," in which the Alphans meet duplicates of themselves living in a parallel universe. "That episode gave me a chance to get my teeth into a really good storyline," he says. Another early adventure Tate recalls for quite a different reason is "Dragon's Domain." Although the original script featured Alan Carter in most of the action, the version that eventually made it in front of the cameras bore little resemblance to the first draft.
"I know this episode was originally written for me because its writer, Johnny Byrne, invited me to his house and showed me the first draft," the actor explains. "The original story was very much like Alien, where this creature kills everyone on board a space station and Alan Carter is sent there to discover what has happened. He ultimately finds the creature waiting for him. Viewers will remember the episode, but will also remember that I didn't play the part.
"Because of the Italian money in the series, the Italians wanted one of their lead actors to play a large role in this particular episode. Up to this point, the only large roles we had were visiting alien villains. In their wisdom, the producers decided to rewrite the script and replace me with an Italian actor [Gianni Garko]. In the end, I was lucky not to be featured because the other character got killed. Missing out on this episode was tough for me to swallow, but it was very early on in the series, and better episodes came along for me later."
Throughout its two seasons, Space: 1999 boasted an impressive list of guest actors. "I loved working with Leo McKern [The Companion in "The Infernal Machine"], who, incidentally, is Australian," Tate says with pride. "He is a wonderful actor and a true star. Peter Cushing [Raan in "The Missing Link"], was a charming man and an extraordinary actor. I found Joan Collins [Kara in "The Mission of the Darians"] to be very friendly; we had lunch at the studio a few times while she was guest-starring. Another actor I liked very much was Ian McShane [Anton Zoref in "Force of Life" and best known in America for Lovejoy]. He's a clever actor and a good guy - a real man's man."
After spending 18 months shooting the first 24 episodes of Space: 1999, the actor returned to Australia to play Brother Victor in director Fred Schepisi's The Devil's Playground. His work in the film won Tate the 1976 Australian Best Actor Award. "The film is about a boy who enters a Catholic seminary to become a teaching brother. Along the way, he struggles with adolescence, unanswered questions, repressions and oppression, as well as the sort of dogmatic militarism and regimentation found in many such institutions. It was a truly beautiful film that presented me with the opportunity to play one of my best roles ever."
Cast Survivors
When the green light was finally given for Space: 1999's second season, Tate discovered things had changed. Space: 1999 did have a future, but Tate, along with most of the show's original cast, wasn't part of it.
"We were very happy with the series and expected to be picked up again within three months of filming those first episodes, but it didn't happen. After a gap of nearly a year, we were all convinced that the show was finished and had been abandoned.
"One day, word suddenly went out that ITC had decided to renew Space: 1999, but the only two people they wanted back were Martin and Barbara. The rest of the show was going to be totally recast, which just sounded insane. The first series had 10 permanent cast members along with about 30 extras who worked regularly. Instead of firing everyone, what they really should have done was make a change in direction in the scripts.
"One reason I think the cast was changed so dramatically was that Gerry and Sylvia had divorced. Sylvia had chosen most of the original cast and Gerry wanted to change everything she had done. Unfortunately, this wasn't a good move. An American, Fred Freiberger, had taken over as the new producer. I don't believe he did his homework and didn't realize how popular I was with viewers. As a result, he hadn't invited me back."
There could be no confusion over Tate's popularity during Space: 1999's first season. ITC drew attention to the fact that the actor received more than 5,000 letters a week from fans around the world.
"When filming began on the second series, Gerry Anderson invited me to come to Pinewood Studios where he told me, 'We want you back on the show.' [Zienia Merton was the only other regular cast member brought back, together with extra Sarah Bullen.]
"I said, 'I don't understand it. I was told that none of the original cast apart from Martin and Barbara was needed and that you were changing all the actors and adding new regulars.'
"Gerry then said, 'Well, eight scripts have already been written and that's the way it is, but we've recognized your popularity and feel the show wouldn't be the same without you. We would like you to come back.' Naturally, I felt flattered, but on the other hand, I realized he had just told me that eight scripts, ones that obviously didn't include Alan Carter, had already been written. He then told me not to worry and that he would introduce me to Fred Freiberger.
"I must say that I missed Sylvia greatly, because she was a wonderful woman and really understood the show. It was clear to me that when I met Fred, he had no love of the original show at all. He invited me back to his house to meet his family, and while we were there told me that his kids were great fans of Alan Carter, and the reason he brought me back was because of what his kids had said. I guess I've got them to thank for getting me back into the show," he laughs.
After a quick rewrite, Alan Carter did end up appearing in "The Metamorph," the first episode of Space: 1999's second year. As the season progressed, the astronaut floated in and out of various episodes, appearing in only one or two scenes in some, while in others like "Journey to Where" (one of Tate's favourites), "The Mark of Archanon," "Seed of Destruction" and "The AB Chrysalis," viewers saw much more of him.
Action Heroes
In "Space Warp," his physical agility was put to the test when Catherine Schell's Maya goes on a destructive rampage. Again, the hand of fate reached out when Tate was asked to perform a complex stunt.
"I did most of my own stunts on the series, except for this one, where my character had to be thrown over a medical table and onto the floor. This scene had to be shown from the floor upwards, which meant the ceiling had to be lowered and I would have to jump off a mini-trampoline and land, face first, on the hard floor in front of the camera.
"I always had a stuntman, Tim Condrun, advising me as to what to do, though he rarely doubled for me since I did most of my own stunts. When it came to this scene, I said to him, 'I don't think we should do this stunt because the ceiling is too low and I can't get a proper roll when I go over the table.'
"Tim agreed that I shouldn't do the stunt and stepped in to do it for me. When he landed on the floor, Tim knocked his two front teeth out and dislocated his shoulder. God bless him for doing that stunt for me. I thanked him and helped him out a little bit, but you can never replace a man's two front teeth. I want to take this opportunity, albeit 20 years later, to publicly acknowledge Tim and express my gratitude to him for taking that fall for me."
Despite the cast changes, script rewrites and new sets and music, the second season of Space: 1999 didn't quite manager to deliver what ITC promised to be a show "bigger, better, more exciting than ever!" Instead, low ratings turned out the lights on Moonbase Alpha after the filming of Space: 1999's, 48th and final episode, "The Dorcons."
"The show's original concept had been conceived by both Gerry and Sylvia Anderson. When they broke up, it really destroyed much of what had been established during its first series. It seemed as if Gerry was prepared to allow somebody else to come in and totally change the humanity Sylvia had brought to the program.
"We moved further away from science fact and started moving deeper into stories that had a much weirder slant. In the second season, we wound up having, I think, some very silly characters. We weren't able to spend either the money or time on the original concepts and, as a result, many of the creatures we encountered looked more like pantomime [theatrical costumed] dragons.
"One of the reasons why I feel Space: 1999 eventually folded was because the second series didn't have the same sense of truth and honesty that the first did. If I had to make a choice, I would have to say that I preferred the first season. That's not to say that I didn't like doing the second series- some of the episodes we did were very good - but overall I think our best shows were those first 24. We felt like we were making a successful series, and, for its time, it was."
What has kept viewers loyal to Tate and Space: 1999 over the years? "High production values, thoughtful storylines, strong acting, good directing and, in the end, staunch and loyal fans," he answers. "A fine example of this is the dedication and love that my own fan club has shown towards me and the show all these years. Phyllis Proctor and Eileen Skidmore took over running the club in 1977 and have been dedicated to it ever since.
"Space: 1999 is loved by fans because it is about real people. In its original concept, it was more science fact than science fiction, and it was the characters' humanity that I think made people love it so much."
Real Loves
Tate traded his spacesuit for a tuxedo to marry his girl friend Hazel in September 1977. In 1980, he returned to Australia to star in a drama series called Holiday Island. Still more TV and theatre work followed as well as leading roles in such films as Return from the River Kwai and A Cry in the Dark, opposite Meryl Streep. "It was a great thrill to work with that lady," says Tate. "She truly is the foremost actress of our time."
After co-starring in the CBS TV series Dolphin Cove, which was filmed in Australia, Tate flew to the U.S. to audition for Fox's sitcom Open House. Although his character was originally supposed to be American, Tate won over the casting directors and real estate office manager Roger McSwain became Australian. "The series was very funny and I enjoyed going to work at the Paramount lot every day."
Tate moved his wife and children, Tom and Jessie, to California, to better pursue an acting career in America. He worked steadily in such TV series as Matlock, Dear John, Murder, She Wrote, Night Court, and Civil Wars. In 1990, he slid back into the pilot's seat as Dirgo, an irate and overconfident helmsman in the Star Trek: The Next Generation episode "Final Mission."
"I felt very much at home back at the helm. Dirgo was a wonderful character and, strangely enough, a space pilot," laughs Tate. "Of course, where Alan Carter was a sweet guy, a man of action and incredibly loyal, Dirgo was gnarly, grisly, grumpy and anything but loyal. He was like Carter in one way, however, in that he was good at his job.
"Patrick Stewart was a gentleman and easy to get on with. We had never met before, but both Patrick and I worked in English theatre and as such had much common. He told me of his great love I the stage and that he missed doing Shakespeare. I commiserated with him but said, 'I bet there are 1,000 Shakespearean actors out there who would give their right arms to be doing what you're doing. Don't give it up, mate.' "
Lately, the actor has become on Hollywood's leading voice-over narrators, lending his talents to ad campaigns and trailers of Jurassic Park, The Shadow, StarGate, Drop Zone, Outbreak, Nell and other films. Nick Tate remains optimistic as he looks toward the future.
"I'm reminded of a comment Martin Landau made recently when we had lunch together. He said, "Nick, you know, kiddo, you're just one movie away from stardom.'
"For a second, I thought he was clairvoyant, and, then, of course, I realized it what he meant. Each and every one of us is one movie away from stardom. The big trick is to find that one movie."
STEVEN ERAMO, Massachusetts-based writer, profiled Barry Morse in STARLOG 221
---