Nick Tate was featured in the Australian TV Times magazine twice - in November 1975 and January 1977. Both articles appear below.
See Space: 1999 in Australia guide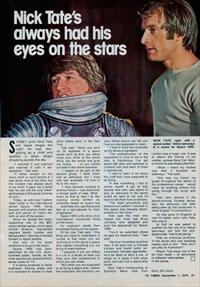 TV Times (Australia), 1 November, 1975; p21. Story: Bill Leslie
Sydney actor Nick Tate will never forget the night he was star-gazing as a child and spotted a silver shape streaking across the sky
"I watched it and watched and watched it until it disappeared," Tate said.
"It either landed on the moon itself or went behind it. I was about nine at the time, but the incident has always stuck in my mind. It gave me a belief that we are not the only intelligent beings in this great universe of ours."
Today, as astronaut Captain Allan Carter in the international series Space 1999 flying saucers and science fiction are part and parcel of Tate's life, both on and off the screen.
Since he landed the major supporting role in the $6 1/2 million British series, which stars former Mission: Impossible regulars Martin Landau and Barbara Bain, Tate has immersed himself in space studies.
And one of his great ambitions is to go to the moon.
Space 1999 has been described by the U.S. show-business paper, Variety, as the most spectacular science-fiction series made for TV.
It is being screened in some Australian viewing areas and it is expected to screen in most other states early in the New Year.
Tate said: "When you work on 24 episodes of a space series such as this, you either close your mind to the whole thing, say the words and grab the money or you involve yourself in the whole business.
'I happen to be part of the second group. I have never met an astronaut, but I have met real scientists. I'd love to fly to the moon.
"I have become involved in science fiction - but more from a factual point of view What mean by that is, that I do like reading works written by scientists based on sound fact scientists who use that sound fact as a springboard for their imagination."
Space 1999 is the story of an international community living on the moon.
An explosion sends their moonbase flying out into space.
Of his role, Tate said: "One thing you have to understand of course is that when you are working on a film set as a space ship captain everything you are doing is make-believe.
"I suppose if you are sitting in a car in a studio at least you have your own experiences to which you can relate.
"But when you are supposed to be flying a space ship, neither the producers, the directors, nor your fellow actors can tell you how you are supposed to react.
"I had to build the character as the series progressed.
"The sophistication of the equipment in front of me in the ship is frightening. I've got about 300 dials and switches to contend with and each of them is operational.
"I had to learn a lot about the craft that I was supposed to be flying.
"It was something I had to evolve myself It got so that anyone else who was asked to play an astronaut in the series would be sent to me and I'd have to tell them how to behave.
"The flight procedure and behavioural pattern I evolved in this space ship became standardised on the show."
Tate said the man who helped him most was Brian Johnson, who designed and built the spacecraft for Space 1999.
"You'd be surprised where he gets his material from," Tate said.
"He is an incredibly inventive man. If he went into a Chinese kitchen and found some extraordinary Chinese egg-beater, he'd be likely to stick a pair of wings on it, spray it with silver paint, and use it as a space-ship model.
Nick Tate's homecoming to Sydney's Mona Vale from London was a tragic one. It was to attend the funeral of his mother, actress Neva Carr-Glyn, to whom he was deeply attached.
"When I heard my mother had died it knocked me sideways, " Tate said.
"She was my friend, my guide throughout the whole of my professional career. I would never do anything without first going through the script with her."
Tate, who starred in the award-winning Dynasty series, won the astronaut role after being seen by the producers in other English TV productions.
He had gone to England to visit his father, actor John Tate, who was ill.
At first he was asked to audition for the role of an Italian astronaut, but told the producers they "had to be joking."
Then an American producer of the series who was standing nearby said to him "Why don't you play an Australian?"
Result: Tate plays one of the six main leads - all astronauts of different nationalities in the series.
TV Times (Australia), 15 January, 1977; p30-31
Nick Tate can thank his lucky stars - and his own determination and belief in himself as an actor - for hie leading role in the British science-fiction series Space: 1999. Lance Peters in London takes up Tate's success story.
Nick Tate, 35, blond hair, unpretentious, with sort of Aussie Robert Redford looks, son of two or Australia's most beloved and talented theatricals - Neva Carr Glynn and John Tate - hag hit the American TV big time. By working in England.
As astronaut Alan Carter on the science fiction series Space: 1999, whose 48 one-hour episodes were filmed at Pinewood Studios, he gets about five-thousand worshipful fan letters week, mostly from American teenage sci-fi fans who thank Tate and Space: 1999 the greatest things to happen out of this world since Star Trek.
The two American stare of Space: 1999 - Martin Landau and Barbara Bain - who vent from Mission: Impossible to mission highly improbable in the space series - also get fan mail, but not as much their captain from down under.
Perhaps it's the combination of Aussie aggressiveness and Tate's own youthful blond headed vulnerability that starts the fans writing with avowals of of earthy, undying love for their outer space hero, but as yet his popularity is not world-wide.
In the U.S. where Space: 1999 is syndicated from coast to coast at good, early evening viewing times, they love the whole weird, gimmicky, imaginative, mind-blowing sci-fi concept. And why not? The Americans, after all, were - with the Russians - mainly responsible for transferring science-fiction into fact.
But in the UK, where the series is filmed, the program hag been relegated to Saturday morning viewing on London Weekend Television, because British viewers, it seems, prefer the past to the future.
Nevertheless, Tate feels on top of the world. He recently won the Australian Film Award for the best Australian film actor for his work in the film Devil's Playground, playing a very earthy teaching brother.
After completion of the space series, he has been invited to star in a new Australian movie, a thriller written by Cliff Green and produced by Pat Lovell, titled Summerfield.
He has also been offered two important roles in two American movies to be made in Britain, and he has just bought the film rights to an Australian novel, which he hopes to produce in Australia in the near future.
But it hasn't been easy. Or quick.
Tate first left Sydney for London in 1965 with the same starry ambition that has prompted a myriad Of Australian actors to travel there. He stayed in London for four years until 1969, and in that tine he appeared in small roles in 13 TV productions, ranging from Dixon of Dock Green through Z Cars and Troubleshooters, played in repertory theatre in different parts of the British Isles, all that accounted for much less than half his working time.
So he did other to keep off hie dole. He worked a demonstrator at the Ideal Homes Exhibition, for a flat-letting agency, sold thermal installations, double-glazing, did life guarding at the Oasis swimming pool and did lots of market research around Golders Green (middle class) and Islington (working class) in London, interviewing house wives about their birth control habits (or lack of then).
One day in Piccadilly he bumped into an actor friend who asked the usual actor's question: "Working or resting?"
Tate confessed: "Times are rough, mate."
The friend told him he leaving a good job in a Soho strip club, the Nell Gwyn, for a repertory job, and that Tate could take it over if he interested. He was - "Seventeen quid a week in warm strip club was preferable to freezing, trudging the wintry streets as a market researcher."
He stayed there for a year as "stage manager", ringing the curtain up and down, putting the girls' props out, putting their music tapes on and improvising when they didn't turn up for work (which was often).
Tate returned to Sydney in 1969 to play in the stage production of the Canterbury Tales, and didn't stop working for three years. He played hie own father, John Tate's, TV son in the Dynasty series, appeared in all the Crawford police series, in Thomas Keneally's An Awful Rose at the Jane Street Theatre and in David Williamson's Don's Party at the Old Tote, in which he scored a hit as Don.
Then he played the lead in the TV pilot for Artransa titled The Chaser. Tate felt it was the best piece of Australian TV he had done, but commercial networks wouldn't buy it.
In mid-1973 with a pocketful of money from all the work in Australia, Tate headed back to London, mainly to gee his father, who was living there.
This time he bumped into John McCallum in Piccadilly. Same question: "Working or resting?" Tate replied: "A bit of both."
McCallum revealed he was on his way to lunch with Bruce Gyngell, who was then deputy managing director of Sir Lew Grade's Associated Television (ATV) and Incorporated Television Company (ITC). He later mentioned Tate's presence in London to Gyngell, who promptly dictated letters to several TV producers warmly recommending him for casting consideration.
It seems that Gyngell had been delighted with Tate's performance in the unsuccessful pilot The Chaser, made when Gyngell was in charge at Artransa.
Two of the people Gynge11 sent letters to were Gerry and Sylvia Anderson. co-producers of many TV series, including the sci-fi animation and live-action Thunderbird series. They just happened to be casting for Space: 1999. Tate was invited along. He had a long interview with Michael Barnes, the director, which produced no sparks.
He asked to gee Sylvia, the co-producer. Barnes replied she too busy to see him. Tate stood hie ground. He said that Bruce Gyngell had written specially to Sylvia about him and emphasized that he should see her.
In view of the fact that ITC was backing the Aeries, a word from Gyngell should have carried weight. But Barnes was adamant - "She's too busy to see you, and anyway, I'm doing the casting!"
Tate even more adamant - "I'm not leaving till I see her!"
Sylvia agreed to gee Tate for two minutes after a half hour. He waited, and then was ushered into the producer's office. Present were Sylvia and Anderson and Lee Katzin, the main American director of the series.
Tate handed hie press book to Katzin. It contained all the good reviews he had ever received and none of the bad. Katzin read it avidly.
Tate chatted to them for over an hour. They seemed impressed. He left the interview with the role of an astronaut named Collins who was going to killed in the first episode.
He wasn't satisfied. He told them that he had hoped to get one of the main continuing roles. They shrugged. Pushy Aussie. He should been satisfied.
He learnt his part, was painfully fitted with some contact lenses to show radiation burns in hie eyes, was fitted by wardrobe and resigned himself to the role - two weeks' work better than none - when he was again called into the producers office.
Sylvia said "Look, Nick. As you know we start Monday but we haven't cast the chief astronaut part of Catani, an Italian. Would you like to read for it?"
That was it! Now he was within an inch of one of the leads in an international aeries. Stardom plus security was on the way. Or was it? They wanted him to read in an Italian accent. He pulled out his best Aussie/Italian voice which sounded quite ridiculous.
They said: "Thank you much, Nick". Which meant in polite English, "Beat it!"
But Lee Katzin took him aside and said "Look, I know you can do this, Nick. What other accents can you do? I mean, this guy doesn't have to be Italian."
Tate grinned and read the same part again. Three times. With a German accent, then French, then Czech. They said: "Thank you very much, Nick."
Then Katzin came to the rescue again - "Why don't you read it in Australian?"
Sylvia and Gerry chimed in: "No!, no, no! You can't do it in Australian. It sounds too much like cockney. The Americans would think it was cockney. Too confusing."
That got Tate's back up. He shouted at them; "Bloody hell! Australians not a cockney ! Don't you know an Aussie cells a spade a spade? An Aussie is an aggressive. arrogant character, who can bloody well command men at any given moment and go off on his own like an army commando!"
"This man is perfect... an Australian man is perfect for the part of the chief astronaut! A cockney is servile. He'll stand back and open the door for the governor. I mean, that's the international image for those two people. You tell me, which of those would be better for an astronaut?"
Katzin said: "Sonofabitch! He's right you know! I think we should let him read it again!" He gave Tate the thumbs up under the table - "Go ahead ocker." [Ocker is a rough, stereotypical Australian]
So Tate read it! He really went for it. Not an ocker character but an moderately accented, aggressive but vulnerable Nick Tate sort of person. With lots of Aussie guts.
He got the part. Astronaut Captain Alan Carter, an Aussie in international Space: 1999. The rest is ... if not history, science fact.