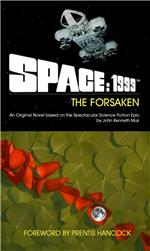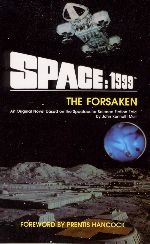 Powys. foreword by Prentis Hancock
published with 2 different covers
January 2003; $15
Reissue with corrections: 24 January 2013; $12.15
259 pages
Chronology: Transitional Year 1 - 2. The 2013 edition corrects some typos.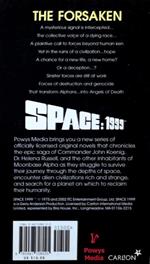 A mysterious signal is intercepted...
The collective voice of a dying race..
A plaintive call to forces beyond human ken
Vet in the ruins of a civilization...hope
A chance for a new life. a new home?
Or a deception...?
Sinister forces are still at work
Forces Of destruction and genocide
That transform Alphans...into Angels of Death
Chronology
After Year 1.
Planets
Pyxidea, populated by the dying alien race, the Cryptodira.
Continuity
Sets up changes between Year 1 and Year 2.
The book opens with the burial of Jackie Crawford (Alpha Child, with his death in the story Fallen Star in Shepherd Moon)
Paul Morrow and Tanya leave Alpha for the planet Pyxidea
Tony Versdechi is introduced and promoted
In the coda, Koenig shows Bergman the plans to relocate from Main Mission to Command Center
Koenig realises Pyxidea is one of the planets that depended on the Space Brain
Koenig states they are "pawns moved around a game board as some hidden intelligent please", and resolves not to be manipulated in the future