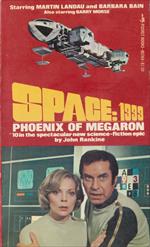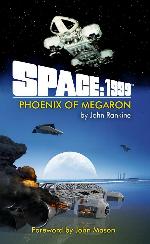 Original Novel, only published in the US. Based on an unpublished (non-1999) novel by Rankine called Forgotten Rocket, written in 1974.
| | | |
| --- | --- | --- |
| Pocket: (nbr 10; pp7-159) | 0-671-80764-1 | Nov 1976 ; $1.50 |
| Powys Revised text | With foreword by John Mason | 1 October 2012 |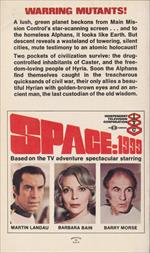 WARRING MUTANTS!
A lush, green planet beckons from Main Mission Control's star-scanning screen ... and to the homeless Alphans, it looks like Earth. But descent reveals a wasteland of towering, silent cities, mute testimony to an atomic holocaust!
Two pockets of civilization survive: the drug-controlled inhabitants of Caster, and the freedom-loving people of Hyria. Soon the Alphans find themselves caught in the treacherous quicksands of civil war, their only allies a beautiful Hyrian with golden-brown eyes and an ancient man, the last custodian of the old wisdom.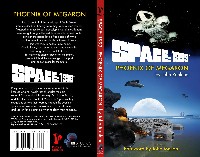 Stepping out of of the wreckage of Eagle Seven, Commander John Koenig knew they were in deep trouble. Trapped on a hostile post-apocalyptic world, the Alphans were caught bang in the middle of a centuries-old battle between the peace-loving free people of Hyria and the violent mind-controlled citizens of Caster. If this was truly to be their new home, Koenig knew, for a start, he must end the conflict and bring freedom back to Caster. But there was another power on the planet, one which had the knowledge of the past and its own plans for the future.
Planets
Megaron
Continuity
late Year 1
The planet Megaron is a devastated world, with one city, Caster, it's submissive population controlled by drugs and run by "Spadec". A small group of Outfarers resist Caster. The Alphans are captured by Caster and then rescued by the Outfarers. As the two sides mount attacks on each other, the Outfarers themselves split into civil war. In a space centre, a single survivor of the original Megaron civilisation exists with a spaceship, the Phoenix, providing them with a way to escape the planet.
They later find out Spadec is a computer ("The rest of the room was filled by a huge computer spread. Across its front panels was the acronym spelled out in full: Social, Political And Defence Executive Computer."). The computer controls people with voice commands, but it is not intelligent or acting independently. Koenig issues a verbal command to free the population of Caster. "This is Spadec directive omega one. You will disregard all Spadec instructions other than this. All previous commands are null and void. When you hear this, you are free. You are on your own. Your life is your own. Your mind is your own."
In the end, the Outfarer Rhoda and Alan Carter have fallen in love, and she returns to Alpha with them. "Thank you, Commander. Now I know I shall be happy on Alpha. You are a good people. Your visit to Megaron will be a turning point. Perhaps it was ordained, as I believe it was ordained that I should meet Alan." Koenig says to her "If you stay, you will live with regret. If you come with us, you will share our dangers, but you will share our hopes. Even at that simple level, there is no real choice. You have to come." The idea of an alien on Alpha anticipates Maya in The Metamorph, and Alan's relationship with Sahala in Dorzak.
The Powys version replaces one character, security guard Rufford, with Tony Verdeschi. To avoid the big continuity problem, Rhoda does not come to Alpha.
---