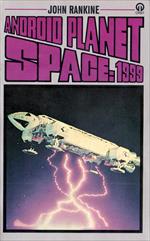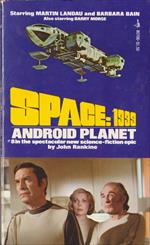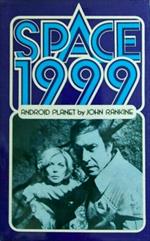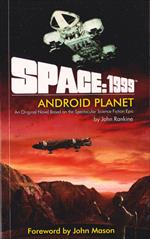 Original Novel
| | | |
| --- | --- | --- |
| Orbit: (nbr 8; pp7-140) | ISBN 0 8600 7903 1 | Aug 1976 ; 50p (Can $1.50) |
| Arthur Barker: (no nbr; pp7-140) | ISBN 0 213 16600 3 | Dec 1976 ; £3.65 |
| Pocket: (nbr 8; pp7-159) | 0-671-80706-4; | Sep 1976 ; $1.50 |
| Powys Revised text | | 3 February 2011 |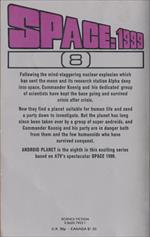 Following the mind-staggering nuclear explosion which has sent the moon and its research station Alpha deep into space, Commander Koenig and his dedicated group of scientists have kept the base going and survived crisis after crisis.
Now they find a planet suitable for human life and send a party down to investigate. But the planet has long since been taken over by a group of super androids, and Commander Koenig and his party are in danger both from them and the few humanoids who have survived conquest.
ANDROID PLANET is the eighth in this exciting series based on ATV's spectacular SPACE 1999.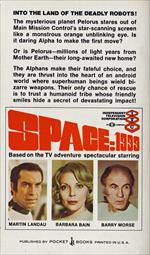 INTO THE LAND OF THE DEADLY ROBOTS!
The mysterious planet Pelorus stares out of Main Mission Control's star-scanning screen like a monstrous orange unblinking eye. Is it daring Alpha to make the first move?
Or is Pelorus-millions of light years from Mother Earth-their long-awaited new home?
The Alphans make their fateful choice, and they are thrust into the heart of an android world where superhuman beings wield bizarre weapons. Their only chance of rescue is to trust a humanoid tribe whose friendly smiles hide a secret of devastating impact!
Arthur Barker
Travelling through space. unwillingly, in their search for a new planet on which to build a city and re-establish the life they had known so long ago on earth, Captain Koenig and the inhabitants of Moonbase Alpha see an apricot planet on the horizon. Initial data give the impression that it is habitable and that some form of life is already there. The computer establishes its identity as Pelorus. They have six days to decide before the planet disappears again.
But even as plans are made and an exploratory mission party assembled there are signs that the Alphans will not be welcome, What is the cause of the strange high frequency signal that temporarily paralyses the staff at Main Mission as they establish a form of contact with Pelorus? Why does a tornado suddenly whip up threatening to destroy the whole base? Where are the inhabitants when the landing party arrives? Why is there no obvious life in an atmosphere similar to earth's? What controls the strange robots that the landing party first encounter? Once they enter the centre of civilization will they be able to get out again and give their verdict to those still waiting on Moonbase Alpha?
As the Moon rapidly approaches new world, Moonbase Alpha comes under attack. Commander Koenig journeys to the planet on a mission to save Alpha from destruction and to negotiate the settlement of his people. But is this the new home they seek? Or is it a battleground between humans and androids, treachery and ruthlessness, survival and extinction?
Planets
Pelorus and Copreon
Continuity
late Year 1
The planet Pelorus is rich in the magnetic metal infrangom (a common Rankine super-mineral used in several of his non-1999 books). "For centuries Copreon has used Pelorus as a quarry for a metal which does not exist on our own planet. We call it infrangom. It is light and very strong and does not corrode in the atmosphere. "
Pelorus was mined by the people of the planet Copreon, who used android slaves. The androids have revolted. A few Copreons have survived underground, and kidnap Helena and Sandra to use as surrogate mothers.
Pelorus is found in the tapes of Voyager One (Voyager's Return)
The Eagle has half-track vehicles which tow the wheeled Eagle from a field of acid grass. "it was a physical chore to manhandle the small, but heavy, halftrack excursion trolleys out of store and down to ground level. When it was done and tow lines fixed, Carter and Morrow used manual worm gear to lift Eagle Nine off of her flat plate feet and drop her massive wheels. "
Includes the British idiom "It was all Lombard Street to a china orange that they hadn't a hope of climbing it.", obscure even to modern Brits (it means a certainty, betting the London street of banks against a cheap orange)
Opens with the Alphans doing a production of Gilbert and Sullivan's Mikado, in a similar opening to The Troubled Spirit.
The androids anticipate One Moment of Humanity
Paul Morrow's relationship with Sandra is problematic and very 1970s.
---
Copyright Martin Willey