Johnny Byrne's Children of the Gods by William Latham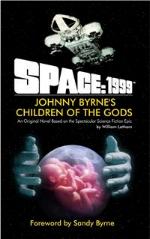 Powys. 24 January 2013
147 pages. Foreword by Sandy Byrne (wife of writer Johnny Byrne)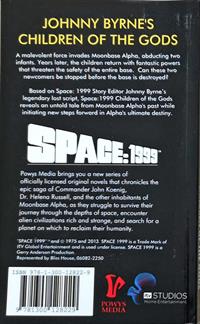 A malevolent force invades Moonbase Alpha, abducting two infants. Years later, the children return with fantastic powers that threaten the safety of the entire base. Can these two newcomers be stopped before the base is destroyed?
Based on Space: 1999 Story Editor Johnny Byrne's legendary lost script, Space: 1999 Children of the Gods reveals an untold tale from Moonbase Alpha's past while initiating new steps forward in Alpha's ultimate destiny.
Continuity
"before" section, p1-14: after The Forsaken and Survival, shortly before The Metamorph. Sandra Benes is possessed and goes to Medical where Dana Warren is about to give birth to twins. The father, Carl Warren, is killed and the unborn babies disappear.
"After" section, p17-125: After year 2, about a year after Omega/Alpha (20 years after Breakaway).
David Kano's autopsy is the opening scene in "before" (the sequel to these events is in Born to Adversity)
At the start of "after", both Helena and Maya are pregnant; Eroca (from Survival, she joined the Moonbase after the battle of Ultra in Alpha) is acting commander.
Sandra Benes and Tony Cellini are in a relationship.
Two 10-year old children, Ardan and Kandan, appear in Command Center; they are the missing twin babies, but now have capricious superhuman powers.