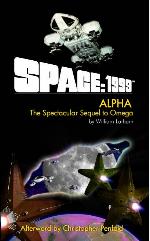 Powys. 27 February 2010
199 pages
Appendices:
"The Chronicles of Arkadia by Professor Victor Bergman" p173
"The Strange Tale of Data Technician Rowe" p183
Afterword by Christopher Penfold p187-189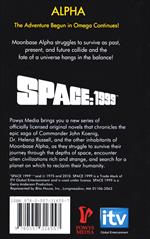 The Adventure Begun in Omega Continues!
Moonbase Alpha struggles to survive as past, present, and future collide and the fate of a universe hangs in the balance!
Continuity
Sequel to Omega.
Koenig's father, Hillel, appears thanks to Goma.
The Another Time, Another Place Alphans are transported to Arkadia, and the Earth is destroyed colliding with their Moon.
Ultra (from Dragon's Domain) is brought into the void, with the dragons.
Bob Mathias is killed.
The book ends with Alan Carter having two people join him on Alpha- the Leiran Eroca (Survival) and the daughter of Earth-Alan and Regina, Ariana.