Main Mission Operative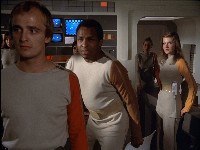 ---
Although listed as a Main Mission Operative, she wears the orange Reconnaissance sleeve.
Collision Course
Main Mission Operative
End of Eternity


She's on the left in the corridor. Later she's in Main Mission, by the Big Screen.
The Last Enemy
She is only in this one shot- at the top of the stairs, left, here.
The Troubled Spirit
Main Mission Operative, one of the few who didn't attend the concert.
Mission Of The Darians
Main Mission Operative, behind Sarah Bullen here
Dragon's Domain
You can just see her head briefly on the right, over Koenig's shoulder.
The Testament of Arkadia


On the right, listening to the communications post.
Later seen in corridor as Luke and Anna go from the Reference Library to Koenig.
Devil's Planet
On the right, in front of the guard. She is possibly one of the prisoners brushing the path clean of footprints, but her face is not seen.