Shermeen Williams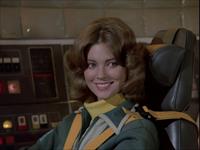 ---
"Tony's beer is not poison."
"You think it's my fault!"
"But you know I've been collecting specimens from every place we've been to."
"You tried to tell them? It was probably your idea that I don't go! Oh, you're a hypocrite!"
"No harm will come to me on Sunim, Commander."
"Bill? I have a surprise for you. It has a lovely fragrance."
"Left...left..No, no, no, no, the green one. The green one."
"Eddie Collins has a rather interesting theory on plant growth. And Eddie and I need that area for our own cultivating."