At several points, Shermeen's voice sounds like it is dubbed by an actress with a stronger American accent than Lynne Frederic. Thanks to Fergus.
First in the opening scene in Hydroponics, when Eddie speaks to Shermeen, right up to when Shermeen first tastes Tony's beer, Shermeen's voice is different to her voice in subsequent scenes.
In Shermeen's quarters, after Helena visits her and offers her a tranquilliser to help her sleep, her reply when stating she only had a dream, appears to be also dubbed.
From when Maya finds Shermeen in the temple up to the point where they exit and walk past the creature, Shermeen's lines are dubbed again.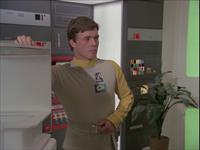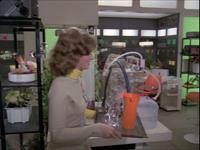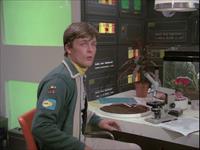 In the opening scenes in Hydroponics, Eddie Collins is not wearing a jacket. We see him go to his desk as Shermeen and Tony leave ("See you, Eddie."). The next shot shows him sitting ("Yeah, sure."), but now he wears a jacket. Thanks to John Day.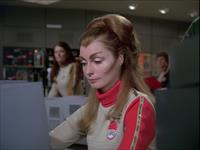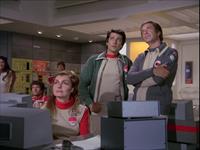 When Maya says "No signs of animal life" she is looking down. We then cut to a wider shot, which shows her looking up. Thanks to Thomas.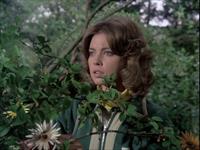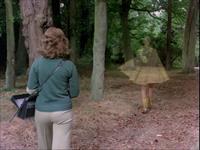 When Vindrus first appears to Shermeen on the planet, her bag is on her right side. When she starts to follow Vindrus, the bag is on her left side, with the strap across her shoulder. Thanks to Thomas.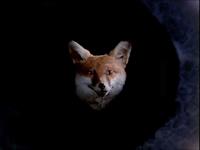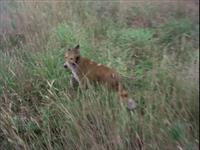 The fox head seen in the transformation scene looks like a stuffed animal. The fox seen in the field looks like a domestic dog. Foxes cannot be easily trained, so filming a real fox would have been impractical.
A fox isn't an especially fast or agile animal. Cheetahs are the fastest sprinters, and exceptionally manoeuvrable. Hares and jackrabbits are also fast and nimble. Other dog breeds like a greyhound are much faster than foxes. The fastest animal is a peregrine falcon. In any case, a bird could simply fly over the Thaed to reach the structure. Even a slow flying insect like a bee would be untouchable unless the Thaed had a big net. Thanks to Tony.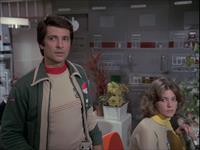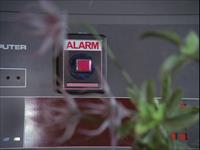 Tony moves to the alarm button on the wall. In Matter Of Life And Death Mathias used his commlock, but the Alphans increasingly ignore their commlocks and use wall panels instead. Thanks to Fergus.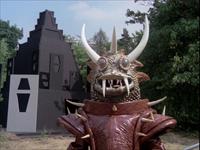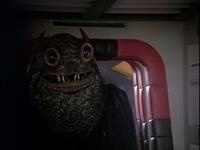 Koenig says "Our sensors showed no life forms on Sunim. So it had to be antimatter." It could also be a robot (the Thaed costume is adapted from the Beta Cloud robot, but the resemblance doesn't register with the Alphans). Thanks to Chris Moore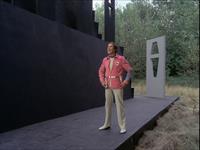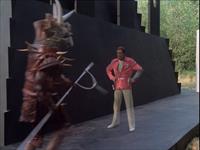 Koenig first stands on the plinth and calls the Thaed. In the next shot, the Thaed runs through him. Koenig has moved a step to his right, and become dramatically shorter. Thanks to Simon.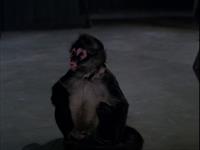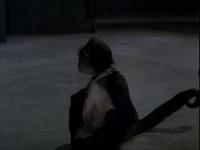 The monkey's lead and collar are clearly visible in several scenes. Spider monkeys live in South American forests up to 35 metres above the ground, and can leap or drop 12 metres between branches. Here it survives a sheer drop from the top of the tower to a hard floor, with no obvious items that could have broken the fall.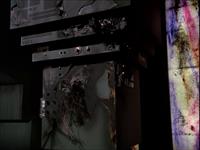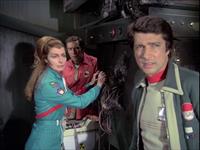 As Maya fiddles with the dials, the Alphans before and after are standing immediately in front of the converter. One cut away shows the converter on its own.
Psychon has an antimatter converter so presumably they were in contact with the antimatter dimension.